Certified Organic
Catoctin Creek is certified organic by Pennsylvania Certified Organic.
Why organic? Our organic spirits, and the ingredients that go into them, are free from synthetic chemical pesticides and fertilizers--chemicals which would come through in the distillates we produce.  The water we use is filtered for purity. We are independently inspected each year to ensure our compliance with regulations governing the production of organic food.
In short, the organic label guarantees you a high level of transparency and accountability in how we produce our spirits. It underscores our commitment to providing you the highest quality spirits and to protecting and restoring our environment.
At Catoctin Creek, we are proud to offer one of the nation's only lines of organic spirits. If you have any questions concerning our organic certification, please contact us.  Nutrition Facts for all of our products are available by clicking the image to the right.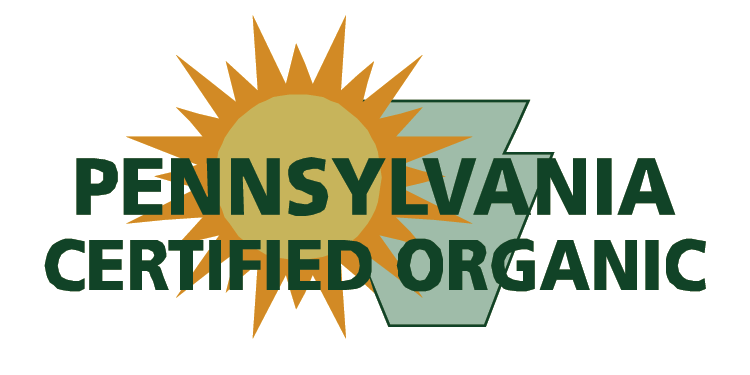 Our certifier, Pennsylvania Certified Organic (PCO) assures the integrity of organic agricultural products through education, inspection, and certification of growers, processors and handlers. PCO is a USDA-accredited organic certifying agency that educates and certifies growers, processors and handlers of organic crops, wild crops, livestock and livestock products in Pennsylvania and adjoining states. PCO is also accredited under International Standards Organization (ISO) Guide 65 and the Conseil des Appellations Agroalimentaires du Québec.
Organic certificate can be downloaded here.

---
Certified Kosher
Catoctin Creek® is certified Kosher by the Star-K certification agency. Certification includes Catoctin Creek Organic Mosby's Spirit, Organic Roundstone Rye Whisky (including the Cask Proof version), Organic Watershed Gin, Short Hill Mountain peach brandy, and Pearousia pear brandy, which all bear the Star-K certification mark.

Kosher certification is performed under the rabbinical supervision of Rabbis Moshe Heinemann and Eliyahu Shuman, who are among the world's foremost experts on Jewish law and kashrus, and Rabbi Tzvi Rosen, editor of Star-K's quarterly journal, Kashrus Kurrents, and an expert on liquors and industrial kashrus.
We are proud to offer one of the nation's only lines of Kosher spirits, and we are honored to be affiliated with Star-K who share our philosophies concerning quality organic and kosher foods, and stewardship of the planet we all share. If you have any questions concerning our Kosher certification, please contact us.
Kosher certificates can be downloaded here.
---
Our Products are Gluten Free!
We get asked a lot if our spirits are gluten free. Federal limits for declaring products gluten free require no detectable gluten at <20ppm. Our samples tested showed no detectable gluten even at <5ppm.  So we exceed the federal definition of gluten free by four times.
But rye grain is full of gluten, you say! How can this be?  The answer is simple.  While it is true that rye grain is a large source of gluten, the distillation process removes gluten from the alcoholic distillates we produce. In layman's terms, the gluten molecules are too heavy to ascend the column in the pot still.
So, you can rest assured our products are gluten free.
---
We're Vegan Too!
For those who keep a vegan diet, we occasionally get the question, "Are your products vegan?"
Yes, our products, are vegan. We use no animal-derived ingredients, nor any animal by-products for filtering or refining our product.
Sometimes, the question of yeast arises. Yeast is required in all fermented beverages, including beer, wine, kombucha, and of course, whiskey, gin and brandy. The yeast organism (Saccharomyces sp.) is a eukaryotic micro-organisms of the fungi kingdom, which means it is neither plant nor animal.  More about that here.