Welcome to July!
In the past month, there's been a whirlwind of activity here at Catoctin Creek, and we are excited to share that we have been featured in several local and national magazines, even winning another award for our Roundstone Rye! We're hoping to make July even better by kicking off with our first ever Red, White & Booze event, featuring live music, signature red, white, and blue cocktails, and hot dogs from our friends at Windy City Red Hots. We hope to make this a yearly tradition to celebrate the true spirit of America: whisky.
Catoctin Creek in Northern Virginia Magazine
As the beginning of an exciting month of press coverage, Catoctin Creek was covered in the July issue of Northern Virginia Magazine, sharing the humble beginnings of our company and detailing our inventory and future projects, including the release of Rabble Rouser Straight Rye Whisky, available this October, and a collaboration with a local brewery in an event similar to our previous King's Mountain release with Heritage Brewing. The profile of our company includes breathtaking photos of our tasting room and spirits, as well as a where to buy section. Pick up your copy of the magazine at your newsstand today!
Roundstone Rye Named as one of the "Best Affordable Craft Whiskies" by Eater
Eater, an online platform for foodies nationwide, paid tribute to craft distilleries and named our flagship spirit as number one on the short list of affordable craft whiskies, highlighting our unique mash bill of 100% rye. The article praises the true craft nature of Catoctin Creek and the other distilleries, where the whisky is made from scratch in-house—from the mash tank to the still, to the bottling, all on site here. We thank Eater for this distinction and their dedication to helping true craft distilleries share our artisan spirits.
DC Bartenders Vote CCDC as one of "Best Local Distilleries"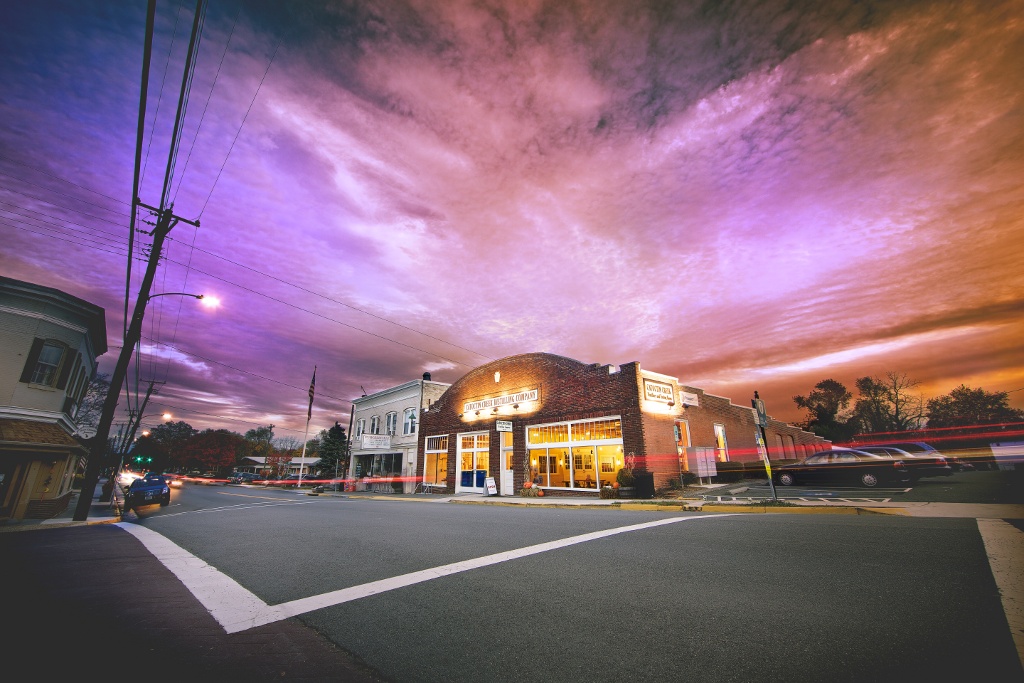 Thrillist also flattered us, calling us a "household name" and providing tasting notes on our Roundstone Rye, Mosby's Spirit, and Rabble Rouser. We were excited that bartenders enjoyed serving our products as much as we love making them, and believe that it is a testament to our quality and dedication to true craft.
Join us for dinner in August!

Photo courtesy Whiskey Cats and used with permission.
Once every two months, we host a dinner with seasonal offerings and specially paired cocktails. The June dinner was an immense success, and we thank everyone that joined us for an evening of boozy fun. Our next dinner will be in August, complete with a tour from Becky, a delicious four-course dinner made by The Wandering Chef, and signature cocktails handcrafted by Scott to complement the dinner menu. Bottles will be available for sale, and the price is $99/person. Special dietary needs can be accomodated if required.
This will fill up fast, so book your spot today here!
Upcoming Events
Here is the full list of events planned at the distillery and in the area this month and through summer.  Many events are free, so be sure to join us for something fun:
For the full list of events, and to get your reservations to these, check our events page.
Cocktail of the Month – Pour Some Citrus On Me
This is another great punch from Chad Robinson, and was the featured punch at the "Super Gin Punch Out" held recently at 1905 Restaurant in DC, along with fellow distillers Caledonia Spirits (makers of Barr Hill gin), and Green Hat.
25 oz Watershed Gin (one 750mL bottle)
12 oz strong green tea
8 oz Capillaire syrup*
6 oz Curaçao
6 oz fresh lemon juice, plus lemon wheels for garnish
6 oz fresh lime juice, plus lime wheels for garnish
32 oz sparkling water (or sparkling wine for more punch in your punch)
Combine all in a punch bowl and float slices of lemon and lime on top.
*Capillaire syrup
(courtesy David Wondrich, Punch)
1 cups of water
⅛ oz orange blossom water
2 cups sugar
Bring water and sugar to boil. Let stand for 30 minutes. Add the orange blossom water. Will keep in the fridge for a couple months.
Courtesy Chad Robinson.
See this cocktail and hundreds more on our cocktails page.
In Closing...
As always, there are lots of fun and information on our Instagram, Facebook and Twitter pages, where you can stay up to date with the daily activities at the distillery. We are open every Tuesday through Sunday for tastings and bottle purchases, so stop by and see us sometime!
Cheers!
Scott & Becky