September is Brandy Month!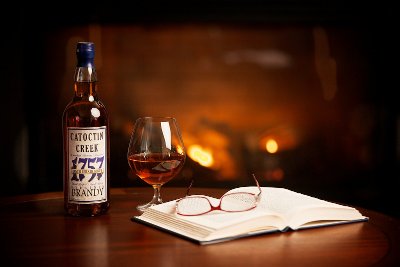 At Catoctin Creek, brandy is a spirit that we've enjoyed making since we started the distillery in 2009.  And although other spirits such as whiskey, mezcal, rum, and even cachaça have seen much interest in high-end cocktail bars, brandy remains relatively unknown by the general public.  
Therefore, it was very cool to see the article in Eater on a "Beginner's Guide to Brandy."  The fabulous Jake Emen does a great story breaking down the types of brandy found worldwide.  A wonderful Brandy 101 for beginners:
"The only times I really hear brandy referenced, it's the most generic, cliché image of a stuffy old white man in a smoking jacket with a snifter by a fireplace drinking some unpronounceable French brandy," says Chad Robinson, an all-around brandy enthusiast, and brand ambassador for Catoctin Creek, a Virginia distillery which produces a range of brandies, in addition to whiskey and gin. Yes, brandy can be enjoyed in that form and fashion. But no, that's not all there is to it.
Read the full story, here.  
Autumn is brandy season, so come on by the distillery, and pick up a bottle of any one of our available types of brandy:  1757 Virginia Brandy (from grapes), Pearousia pear brandy, Short Hill Mountain Peach Brandy, and Quarter Branch Apple Brandy.  Presently, we have all four varieties available for sale today.  Come and see us soon!
Epicurience Weekend!  Join us in the VIP tent or at Patowmack Farm.
Catoctin Creek will be participating in two wonderful events this year at Epicurience.  We hope to see you at one of them!
Epicurience Virginia Opening Night Chefs Dinner - September 4th
Enjoy an idyllic setting with country cuisine, a selection of award-winning beverages and live music at the "State Fair" event that marks the start of Epicurience Virginia 2015, which celebrates the best in food and wine.  The Restaurant at Patowmack Farm, one of Loudoun's Destination Restaurants and farms, will be your host. Meet and enjoy the offerings of these nationally and regionally celebrate chefs: Tarver King, The Restaurant at Patowmack Farm - Loudoun County, VA Bryan Voltaggio, Volt and Family Meal - Frederick County, MD & Loudoun County, VA Justin Severino, Cure - Pittsburgh, PA Tim Ma, Water & Wall - Arlington, VA Jason Lage, Market Table Bistro & Market Burger - Loudoun County, VA Scott Harris, Catoctin Creek Distillery - Loudoun County, VA Loudoun Wine Award Gold Medal Winners   Get tickets here! 
VIP Chef's Plates and Cocktail Pairings by Catoctin Creek - September 5th
Catoctin Creek Distillery will be offering VIP Guests an exclusive cocktail sampling in the VIP tent all day long!  Stroll through the vendors at the Grand Tasting, and when you're ready, pop into the VIP tent for live music, a sampling of great fare from local Virginia chefs, wines from Virginia wineries, and cocktails by Catoctin Creek!  The VIP tent is an exclusive ticket, so you must get that ticket in advance, here.  The complete schedule of events is here.
Catoctin Creek Week in New York City!  September 8-11
Hey, New York!  Scott Harris, the founder and distiller at Catoctin Creek Distillery, will be touring around New York the second week in September!  If you live in the New York City or Brooklyn areas, please be sure not to miss a chance to meet Scott and chat with him.  He's super nice, and is happy to spend some time over a dram (or two, or three!) talking about how he and Becky started the distillery, what it's like to be a craft distiller, what goes into the making of our products, and just about anything else you'd like to ask!  (Why do we spell whisky without an 'e'?  What's the deal with being organic?  How did the name Roundstone come to be?) 
For the full schedule of events during the week, click here.  Be sure to check out at least one of these, and spread the word!!  And if you're a restaurant, bar, liquor store, or other such venue, please reach out to us and let us know if you'd like Scott to stop by for a visit!  He'll have time during the day to make some visits, so let us know ASAP if you'd like to see him!
In the News...
We have a nice profile of the distillery at The Dominion Collective.  Joe Fitzpatrick does a pretty comprehensive piece, for example, this quote on why we chose to be organic:
For us, organic really is the starting point of historical accuracy. One hundred years ago, they didn't have herbicides, fungicides, or insecticides. It was organic production; they just didn't call it that. We felt that organic was more historically accurate with the way the spirit would  taste, and it helps support sustainable farming and, generally speaking, gives smaller farmers that are seeking a high-value means of income for their crops. So we like the whole circle of life, crunchy granola kind  of message too. But when it comes down to it, we like the taste, and the taste of the organic grain is super clean and doesn't have any of the residues or off notes you would taste in a spirit that has been treated with these chemicals.
Read the full story, here.
Upcoming Events
Here are a few really cool events planned at the distillery and in the area:
For the full list of events, check our events page.
Cocktail of the Month – Cucumber Collins
DrinkTonight is an absolutely amazing Instagram account based in DC, and featuring fantastic cocktail recipes with various local spirits.  They really enjoy our Watershed Gin, and have featured it four times int he recent past.  I am grateful too that they have graciously allowed me to cross post their beautiful photos and cocktail recipes here for you so share.  Find them on Instagram at www.instagram.com/drinktonight.
A simple juice + spirit drink is necessary after a long, hot draining DC weekend. This is not a strong cocktail at all, and just a touch of gin is needed to cut some of the sweetness of the apple juice.
1 oz Watershed Gin
Juice of one entire granny smith apple
Juice of half a cucumber
Juice of half a lime
Combine the juices and gin, and serve over ice.  Garnish with slices of lime and cuke.
Recipe and photo by DrinkTonight, and used with permission.
See this cocktail and hundreds more on our cocktails page.
In Closing...
As always, there are lots of fun and information on our Instagram, Facebook and Twitter pages, where you can stay up to date with the daily activities at the distillery. We are open every Tuesday through Sunday for tastings and bottle purchases, so stop by and see us sometime!
Cheers!
Scott & Becky