Welcome to May!  What a journey so far!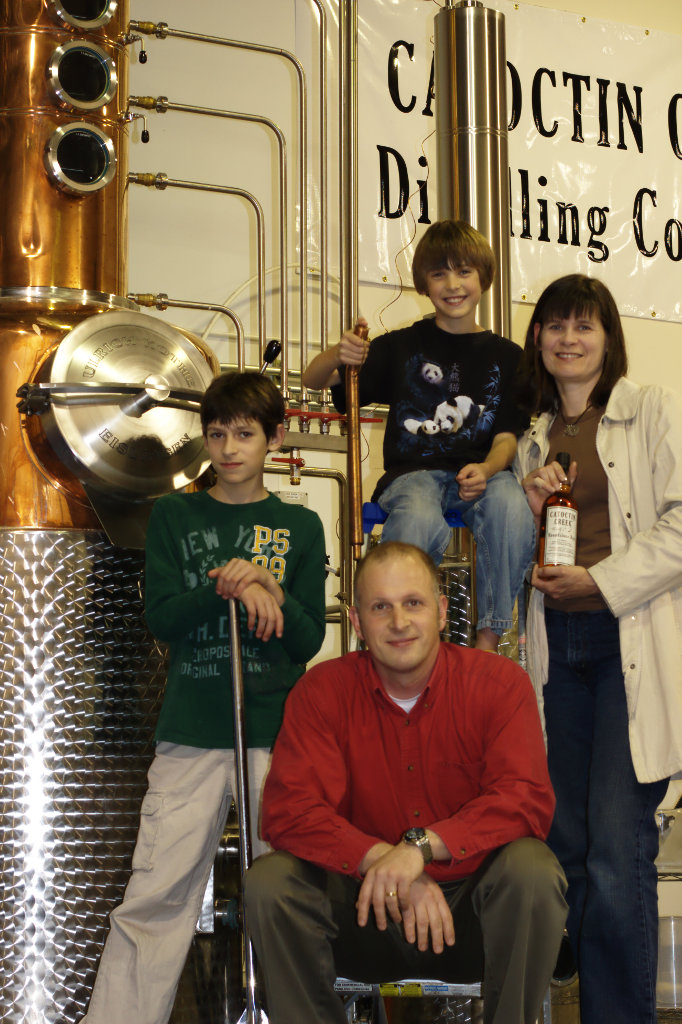 The following is an excerpt from the Visit Loudoun Blog, where, this month, Scott is making a guest appearance telling the story of how he and Becky started Catoctin Creek.  We hope you enjoy... 
Wow.  Six years.  I can hardly believe it.  Time flies so quickly. 


Six years ago, I was sitting at my desk in a windowless office, underneath the unflattering fluorescent tubes of a Fairfax-based government contractor.  I was working on the sixth revision of a Powerpoint package--my boss was ridiculously finicky--doing a presentation for a customer whom I knew would never even see my slides.
"This is the worst," I told myself.  "There has got to be more to life than this."
I was turning forty.  And I was trapped.  I felt confined in my prison, and I couldn't figure out how to escape.  I wanted to be productive; I wanted to do
something that
mattered
.
But what?  My mind continually wandered back to 1985, when I was a fifteen-year-old intern working in a winery.  That was a cool job.  You got to pick the grapes, press the grapes, ferment them, bottle them, and then serve them to the public.  At the end of the process, you held something in your hand, and it was good.  I wanted that kind of purposeful life again.


By 2009, after twenty years of government contracting, I had become a great lover of drinking.  Wineries were everywhere in Loudoun County.  What could I do that was different?  I decided to start a distillery.


I knew nothing about it at the time.  It was just a pipe dream.  But I had several things going for me:  First, my wife, Becky, and I had saved money all our careers.  We didn't come into our marriage with money, but we worked our butts off and saved every dime.  That would be important capital if we started a new venture.


Second, my wife.  Becky was my secret weapon.  Becky graduated with an honors degree in chemical engineering.  She knew about industrial processes.  She knew how to distill.  She was comfortable with mass production and quality control.  So when I brought the idea to her of starting a distillery, her reaction was a casual, "Yeah, I know how to do that."  Then she added, "But first, you gotta write a business plan."


That was my third big advantage, which I never realized was an advantage.  Twenty years in government contracting had taught me to be a very good businessman.  I could manage budgets, do project planning, manipulate spreadsheets, write large technical documents, do government proposals, and had all the tools that would be needed to get us off the ground. 


And so we started.  Long story short, by July 2009, we had obtained SBA financing for a business plan solely on paper, in the worst economic market in a generation!  It was miraculous!  "God wants us to make whisky!" we told ourselves.  By January 2010, we were distilling the first legal alcohol in Loudoun County since Prohibition.


When I fast-forward to today, April 2015, I boggle at where we've come.  Catoctin Creek, which started as a two person operation in a small warehouse in north Purcellville, is now a truly international brand.  We have over twenty employees, and sell in Germany, London, Singapore, Kuala Lumpur, Hong Kong, and in the United States from Boston to Georgia, from Nashville to San Francisco.  All from our little factory on Main Street in Purcellville.


It has been quite a journey.  And to what do I attribute our success?  Prior planning and hard work.  There is no luck.  As my father always told me, you work hard, and you make your luck.  Every single day, we arise at 5:00AM and begin work at 6:00AM at the distillery.  And when the production day is done, around 4:00PM, our day is only half over.  Most nights, we then transition to "evening mode" heading off to events throughout the Washington DC area, where we promote our brand and meet our customers.  If we get into bed by midnight, that's a good night, and we start it all over again the next day. 


But we love every minute of it, and I couldn't think of ever going back to that Powerpoint job.


It's a good life so far!
Roundstone Rye CASK PROOF Available in May!!

Gold Medal – Roundstone Rye "Cask Proof", #7 finisher in category
– Wizards of Whisky World Awards 2015
Score: 88.5 "A truly huge rye... Through a combination of sheer delicious belligerence and chutzpah has your taste buds swooning. Great fun!"
– Jim Murray's Whisky Bible 2014
––––––––
We are very happy to announce that Catoctin Creek's Roundstone Rye CASK PROOF is once again available in the month of May!  The product goes on sale on Sunday, May 10th to our VIP members.  Then, on Sunday, May 24th, it will go on sale to the general public.
This version of Cask Proof is two years old, batch number B15E2, and has a beautiful nose on it of rich caramel and wood spice, and is viscous and lovely in the mouth, with the characteristic sweet, smooth fruitiness that Roundstone Rye has become known for.  And at 120 proof, that's some potent stuff!!
Look for it to be released in limited quantities in the Maryland, Delaware, and DC markets.  Ask your favorite retailer to order it from Bacchus.  In New York, your retailers can pick it up from Blueprint Brands, our New York distributor.  And in Virginia, it is available in limited quantities through Virginia ABC stores (ask your clerk to order #952820). 
Of course, it is most easily obtained at the distillery, on May 24th for the general public.  Better line up, because only a couple hundred bottles are available nationwide, so this one will disappear quickly!
750ml only, 120 proof (+/-), $89.90.
Roundstone Throwdown!
Last year we had a wonderful group of bartenders from all over our area show off their skills each month for our Tasting Room Takeover series, which featured such talent as Trevor Frye of Jack Rose Dining Saloon and Jamie Imhof of Wildwood Kitchen. To kick off our 2015 series, we're debuting a special primetime pay-per-view event: Roundstone Throwdown - Battle of the Beltways!
In a Roundstone Throwdown, two challengers go head-to-head to determine who makes the best Roundstone Rye cocktail! For our Roundstone Throwdown premiere on Monday, May 18, we'll pit DC favorite JP "Pretty Boy" Fetherston of Southern Efficiency against Baltimore's beloved Doug "The Thug" Atwell of Rye in Fells Point. The two cocktail Goliaths will battle in an epic face-off to decide which city serves superior sips! Your votes decide the outcome! You won't want to miss it!
The Roundstone Throw Down will occur at the distillery, at 7:30pm on Monday, March 18th. It's the battle of Charm City versus Capital City! Both bartenders will provide a cocktail of their own design, and you'll get to judge the winner... after much "research", of course! The cost is $20 admission, VIPs attend for free. Sign up today, as space is limited!
New in the Tasting Room

Shrubs, Bitters, and Soaps... (oh, my!)
We have several new products in the tasting room, including some wonderful soaps made with our whisky and gin, whisky-infused coffee beans, delicious pickles and relish from Gordy's Pickle Jar in DC, hand-crafted bitters from DC Embitterment, and our newest addition, artisan shrubs (for cocktails) from Element shrubs.  These 375mL bottles make a great base for cocktails and homemade flavored sodas.  Try a free sample this weekend.  Don't be afraid to ask any of our brand ambassadors for a little taste!
Saturday Lunch Service in our Tasting Room
You asked for it... you got it!  We now offer a Saturday lunch service in our tasting room, provided by the Wandering Chef.  The menu changes each weekend, but last week's menu included:
Herb and lemon hummus with toasted pita or vegetable crudites
Feta cheese dip with roasted peppers
Chilled tomato gazpacho, pickled shrimp and crostini
Braised meatball sliders with pesto and pasta salad
Chicken breast panini with a roasted onion goat cheese spread
Sponge cake and fresh fruit compote "trifle"
Sounds like the perfect accompaniment to a flight of spirits or cocktails!  Come join us this weekend!
Pat McGee Visits Catoctin Creek

We were very honored to have Pat McGee kick off his CD release party at Catoctin Creek Distillery last month.  In case you missed it, Pat played a sold-out show to an audience of adoring fans.  Word on the street is that Pat is a fan too, of our Roundstone Rye whisky!
Everyone who attended the concert got a chance to meet and talk with Pat McGee, and went home with a belly full of good spirits and a heart full of songs.
For more great events like this, including more concerts, please check out our events page!
Upcoming Events
Here are a bunch of really cool events planned at the distillery and in the area:
For the full list of events, check our events page.
Cocktail of the Month – Elemental Rye Julep

We are very excited about the newest product available in our tasting room, a fine collection of hand-crafted shrubs from Element.  What is a shrub, you ask? We're so glad you asked!
Whereas a syrup (aka simple syrup) is a mixture of sugar and water with optional fruit and herbs, and bitters are concentrated tinctures of alcohol and herbs, fruit, and other flavorings, a shrub uses a base of vinegar to achieve acidity, and is then a mixture of herb and fruit flavors.  A shrub allows the cocktail to skip the ubiquitous citrus used to provide acidity, and gives a whole new range of flavors.
This is a traditional mint julep, but we've substituted the shrub for the mint simple syrup.
3 oz of Roundstone Rye whisky
½ oz of Element lemon mint shrub, more or less to taste, but remember, a little bit goes a long way!
6-10 fresh mint leaves, plus more for garnish
Add mint to a rocks glass with crushed ice, and middle the mint to the ice.  Add the rye and shrub and stir to combine, then garnish with more mint.
See this cocktail and hundreds more on our cocktails page.
In Closing...
As always, there are lots of fun and information on our Instagram, Facebook and Twitter pages, where you can stay up to date with the daily activities at the distillery. We are open every Tuesday through Sunday for tastings and bottle purchases, so stop by and see us sometime!
Cheers!
Scott & Becky