Catoctin Creek Organic Roundstone Rye®
"An aroma of sweetness, vanilla, spice and leather. Spicy up front in the taste followed by round sweetness in the middle and a spicy finish.  Nice warmth in the taste and finish."
– Modern Distillery Age, November 25, 2011
Gold Seal – Spirits Division
– The Good Food Awards, January 18, 2013
Gold Medal – Rye Whiskey
– The Fifty Best, September 21, 2012
Score: 88 "Wise beyond their age"
– American Craft Spirits, September 22, 2010
Score: 87 (Silver Medal - Highly Recommended) "Wild and wooly, but entertaining."
– Beverage Testing Institute, February 24, 2011
Score: 80 "Very Fresh, oily rye nose, bursts with rye spice fireworks."
– Whisky Advocate, December 1, 2011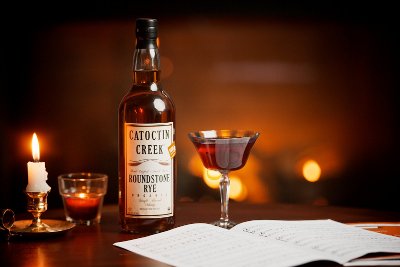 When you take our lovely Catoctin Creek Organic Mosby's Spirit®, and you age it in new Minnesota white oak casks for a time, you end up with a very special rye whisky!  The hardest of all whiskeys to produce, rye whisky is an old time favorite that is new once again.  It has a delicious woody taste, with notes of caramel, rich butter toffee, and just a hint of lemon in the nose.

Awarded silver medals at the 2011 American Distilling Institute Whiskey Competition, the 2010 New York International Spirits Competition and the Beverage Testing Institute, Catoctin Creek Organic Roundstone Rye® is one of the only organic whiskeys in the entire nation.  Roundstone Rye is a great mixer in Manhattans, or any recipe calling for Canadian or rye whisky.  And unlike most rye whiskies available today, ours is never blended with inferior neutral grain spirits--only 100% pure organic rye.  Delicious mixed, on the rocks, or neat.  Try some this evening!
Virginia ABC ordering code 27030; suggested retail price $45.00 per bottle.  40% ABV, 750 ml
Also available in CASK PROOF in limited quantities, suggested retail price $80 per bottle.  58% ABV, 750ml.  Contact the distillery for details and quantities.
Photo of Roundstone Rye on the American Flag by Andrew Spell and used with permission.