Catoctin Creek Organic Roundstone Rye®
Gold Medal
– The Good Food Awards, January 18, 2013
Gold Medal
– The Fifty Best, September 21, 2012
Silver Medal
– Los Angeles International Spirits Competition, June 13, 2016
Score: 88 "Wise beyond their age"
– American Craft Spirits, September 22, 2010
Score: 87 (Silver Medal - Highly Recommended) "Wild and wooly, but entertaining."
– Beverage Testing Institute, February 24, 2011
Score: 80 "Very Fresh, oily rye nose, bursts with rye spice fireworks."
– Whisky Advocate, December 1, 2011
"[It's] the Roundstone Rye that you should be looking for. This rye has been lauded by every whiskey critic, from [Jim] Murray to the Washington Post."
– Paste Magazine, September 19, 2015
"A bottle of sweet and spicy regular Roundstone Rye should always be within reach."
– Men's Journal, September 3, 2014
"An aroma of sweetness, vanilla, spice and leather. Spicy up front in the taste followed by round sweetness in the middle and a spicy finish.  Nice warmth in the taste and finish."
– Modern Distillery Age, November 25, 2011
––––––––
Our lovely 100% rye spirit is aged it in new Minnesota white oak casks for a period of just under two years, yielding a very special rye whisky!  The hardest of all whiskeys to produce, rye whisky is an old time favorite that is new once again.  It has a delicious woody taste, with notes of caramel, rich butter toffee, and just a hint of lemon in the nose.
Awarded silver medals at the 2011 American Distilling Institute Whiskey Competition, the 2010 New York International Spirits Competition and the Beverage Testing Institute, Catoctin Creek Organic Roundstone Rye® is one of the few organic whiskeys in the entire world.  Roundstone Rye is a superb sipping whisky, a great mixer in Manhattans, or any recipe calling for Canadian or rye whisky. 
Delicious mixed, on the rocks, or neat.  Try some this evening!
Virginia ABC ordering code 27030; suggested retail price $44.99 per bottle.  40% ABV, 750 ml
NEW! Gift-sized bottles!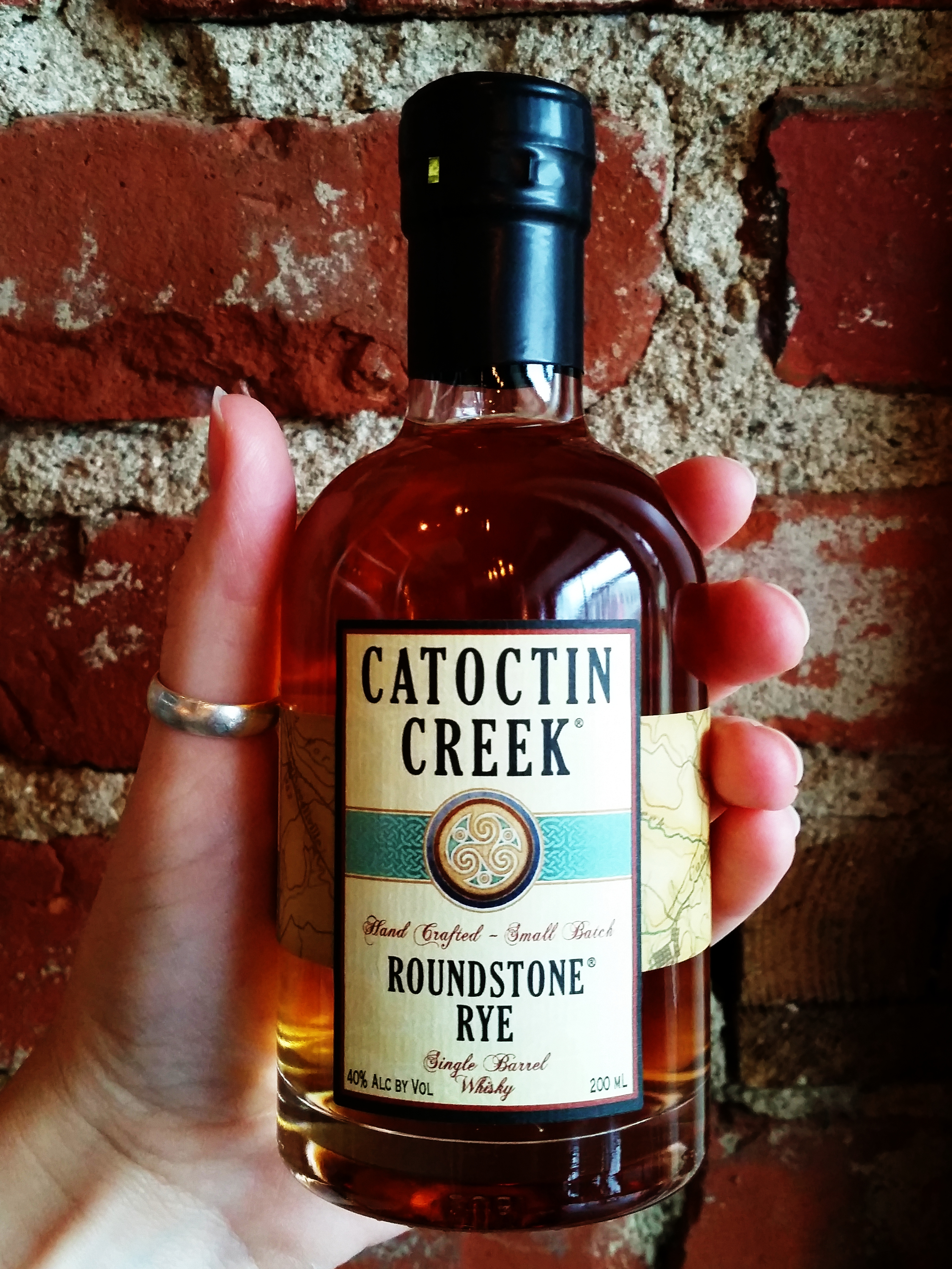 We now offer 200 mL "gift sized" bottles of the Roundstone Rye at 80 proof.  These are perfect for wedding favors, holiday giving, or custom-label bottles for private and corporate giving.  These are ONLY available through special order at the distillery or our select retail stores in DC and Maryland.  
Minimum order 24 bottles for standard label (shown)
Minimum order 72 bottles for customized label with your logo and words on it
Contact us to find out more information.
Suggested retail price $16.99 per bottle.  40% ABV, 200 ml