Press Release: Catoctin Creek Distilling Company Announces Packaging Redesign
Award-winning craft distillery partnered with Thoroughbred Spirits Group to create new label design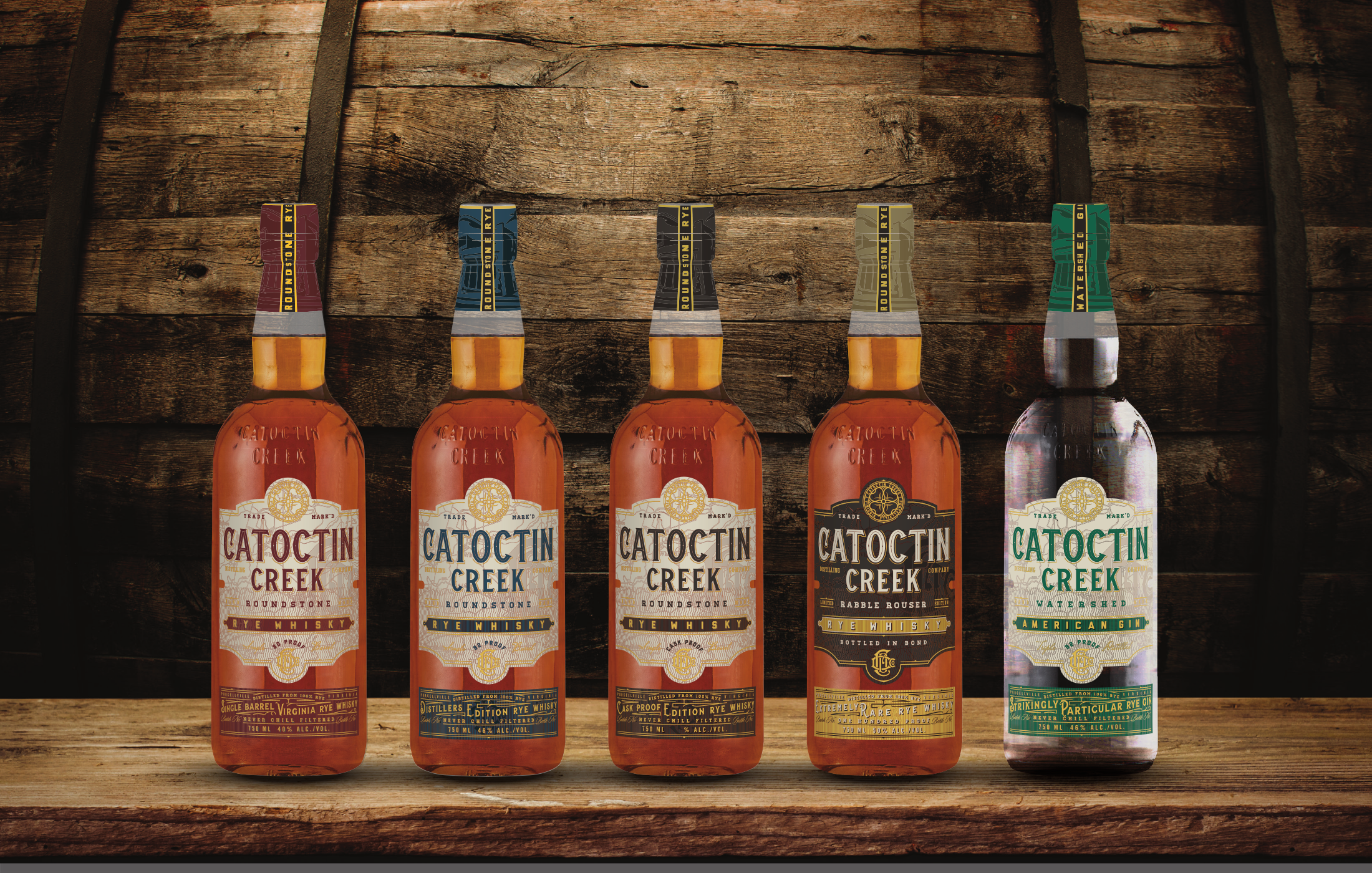 PURCELLVILLE, VA—Catoctin Creek Distilling Company announces new packaging design on labels of its premium craft spirits. The new look, which will be found on all bottles throughout the Catoctin portfolio by the end of the year, was created in partnership with Thoroughbred Spirits Group.
Anchored by a new monogram and dogwood rondel, the rustic yet refined design signifies the distillery owners' commitment to honoring the heritage of distilling in Virginia and the agrarian character of their surroundings in the foothills of the Blue Ridge Mountains. Located in northern Virginia's scenic Loudoun Valley, Catoctin Creek was founded in 2009 by the husband and wife team of Becky and Scott Harris. With Scott running business operations as general manager and Becky crafting the finest spirits in the Commonwealth as chief distiller, Catoctin Creek uses local ingredients to produce a variety of small-batch craft spirits, including Roundstone Rye, which holds distinction as Virginia's most-awarded whisky.
"We started Catoctin Creek because we wanted to make something by hand that put us closer to the land at home in Virginia," says Scott Harris. "We're extremely excited that our new label design speaks to that sense of place, offering a look that perfectly complements the craft spirits in our bottles."
Tasked with refreshing the Catoctin Creek brand, the team at Thoroughbred Spirits Group, a consulting firm that assists distilleries with product development, business planning, branding and distribution, focused on the key elements of Catoctin's rural identity, building a more succinct branding hierarchy and refined packaging concept.
"Throughout the project, our vision was a clean and refined brand that feels modern, yet carefully crafted," says Benjamin Carr creative director of Thoroughbred Spirits Group. "We couldn't be any prouder of the brand we have developed and have truly appreciated the journey with such like-minded clients as Scott and Becky."
Adds Jason Griffin, Thoroughbred Spirits Group's Director of Brand Development: "We knew from the beginning of this project that we wanted to amplify Catoctin Creek's Virginia heritage and tie together the entire portfolio with a stronger brand identity across the range.  Thoroughbred's interpretation of the new packaging tells more than just a story; it successfully creates a strong sense of place."
The redesigned packaging will be available on shelves in the United States and Europe by the end of the year across five widely distributed products in Catoctin Creek's portfolio: Roundstone Rye, Roundstone Rye – 92 Proof, Roundstone Rye – Cask Proof, Watershed Gin and Rabble Rouser.
About Catoctin Creek Distilling Company:  Catoctin Creek Distilling Company (120 West Main Street, Purcellville, VA 20132; Twitter: @catoctincreek) is the first distillery in Loudoun County Virginia since before prohibition. Family owned and operated, Catoctin Creek produces premium spirits: rye whisky and gin from local sources, and brandy from Virginia wines. For media-related inquiries, please contact Hannah Watson at This email address is being protected from spambots. You need JavaScript enabled to view it. or 434-964-0004 ext. 19, or for more information please visit www.catoctincreek.com.
About Thoroughbred Spirits Group: Since 2009, Thoroughbred has assisted the launch of 17 physical distilleries and launched over 75 brands. Our diversified team of experts offers a full suite of services for the industry, including concept and product development, financial and business planning, branding and packaging design, distillery planning, distribution and sales management, and marketing strategy. Whether you bring us on board for a single short project or a long-term partnership, Thoroughbred is committed to helping you succeed at every step along the way. For more information please visit www.tbspirits.com.