Catoctin Creek Pearousia Now Available
Purcellville, VA – Catoctin Creek Pearousia™ is now available from Virginia ABC and retail stores in Maryland and the District of Columbia through Bacchus Importers, LTD.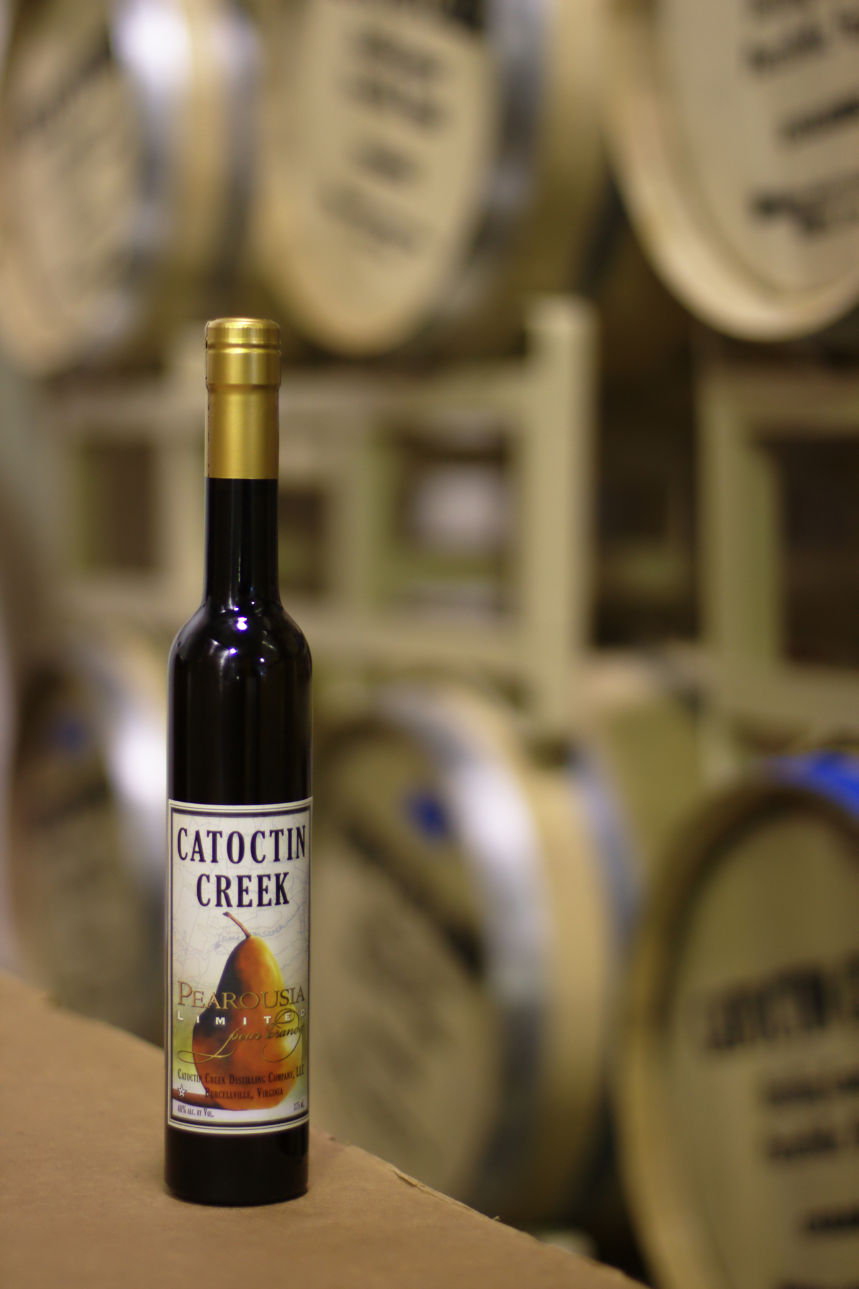 Pearousia is a very special collaboration between Fabbioli Cellars and Catoctin Creek. "Doug Fabbioli, owner and vintner at Fabbioli Cellars, produced a lovely pear wine, and we distilled it into brandy," says Scott Harris, founder of Catoctin Creek. "After being casked in oak for a time, this pear brandy has emerged as a truly lovely and unique offering, and our first fruit spirit."
Pearousia is an extremely limited release local pear brandy, produced from seasonal fruit, and will be sold in 375 ml bottles so that it is accessible to more people. Only 600 bottles will be made this season, just in time for Christmas and Hanukkah.
In Virginia, use Virginia ABC ordering code 952556 to order by the bottle or the case. In Maryland or the District of Columbia, contact your local retailer. Suggested retail price $42.30 per bottle, 40% ABV, 375 ml.
Catoctin Creek Distilling Company is the first family-owned distillery in Loudoun County Virginia since before prohibition. Certified eco-ganic and kosher, Catoctin Creek produces high quality spirits and liqueurs: Rye whisky and gin from eco-ganic sources, brandy from Virginia wines, and seasonal specialty liqueurs. At Catoctin Creek, high quality and eco-ganic spirits and liqueurs are our passion.  For more information, contact us at www.catoctincreek.com or 37251C East Richardson Lane, Purcellville, VA 20132.  Tel:  540-751-8404.
Fabbioli Cellars is incredibly proud of our network of family, friends, employees, and volunteers that contribute year-round to our endeavors. To us, all of these people comprise our extended family. From planting to pruning, crushing to bottling, and delivering to pouring, our team is the key to the success of our rapidly growing business. Bound by a common passion for fine wines, earth-friendly farming, and lasting friendships, we revel in the challenges that each day brings. Confident that our efforts will not only bring us closer together, but will positively impact the experiences of our customers and our community while showcasing the best in Loudoun's rural economy. For more information, contact them at: www.fabbioliwines.com or 15669 Limestone School Road, Leesburg, VA 20176. Tel 703-771-1197.
A member of the Charmer Sunbelt Group, Bacchus Importers, Ltd. is a premier distributor of fine wine and spirits in Maryland and the District of Columbia. For more information, contact them at: www.bacchusimportersltd.com or 1817 Portal Street, Baltimore, MD 21224. Tel: 1-800-525-9699.