Press Release: Catoctin Creek Roundstone Rye obtains GOLD at the 2013 Good Food Awards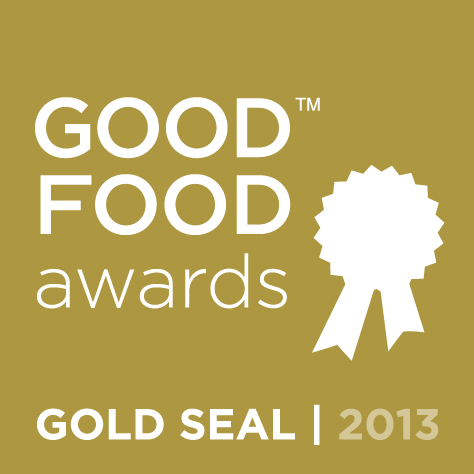 San Francisco, CA (January 18, 2013) – The Good Food Awards has awarded Catoctin Creek Organic Roundstone Rye a gold seal in their 2013 spirits category, one of 182 finalists across nine industries, from 31 states, chosen from among 1,366 entries.  Awards were presented by Alice Waters, famed chef of Chez Pannise and prominent activist for the local food movement.
"The Good Food Awards celebrate the kind of food we all want to eat: tasty, authentic and responsibly produced," said Christina Skonberg, operations manager for the Good Food Awards.  "For a long time, certifications for responsible food production and awards for superior taste have remained distinct—one honors social and environmental responsibility, while the other celebrates flavor. The Good Food Awards recognize that truly good food—the kind that brings people together and builds strong, healthy communities—contains all of these ingredients."
Gold Seals were given to producers whose winning products are either certified organic themselves or are 100% comprised of certified organic ingredients.  Accepting the award in person, at San Francisco's historic Ferry Building, were Scott and Becky Harris, the founders of Catoctin Creek.
"We are honored and delighted to receive this award," said Becky Harris. "This award is unlike many others, in that first, the products are judged for taste and quality.  Once evaluated for quality, a determination is made on the sustainability of the products and the companies that produce them. We are thrilled to win on both factors."
In geographic trends this year, Washington, D.C. is emerging as a hub of Good Food, with 14 Finalists hailing from its food shed of Virginia, West Virginia, Maryland and Pennsylvania. Colorado (10), Washington state (10), Wisconsin (9) and Texas (9) all had strong showings. California had the largest number of finalists (43), followed by Oregon (22) and New York (16).
About the Good Food Awards: Now in its third year, Good Food Awards are given to winners in nine categories: beer, charcuterie, cheese, chocolate, coffee, confections, pickles, preserves and spirits. The Good Food Awards Seal, found on winning products, assures consumers they have found something exceptionally delicious that also supports sustainability and social good. The Good Food Awards Gold Seal marks the products of winners who have also obtained certified organic status while also leading in taste and social responsibility. For more information on the Good Food Awards, contact Christina Skonberg at This email address is being protected from spambots. You need JavaScript enabled to view it. or 415-447-3268.
About Catoctin Creek Distilling Company: Catoctin Creek Distilling Company is the first distillery in Loudoun County Virginia since before prohibition. Certified organic and kosher, Catoctin Creek produces premium spirits: rye whisky and gin from organic sources, brandy from Virginia wines, and seasonal specialty brandy. At Catoctin Creek, high quality and organic spirits are our passion. For more information, contact us at www.catoctincreek.com or 37251C East Richardson Lane, Purcellville, VA 20132. Tel: 540-751-8404.