Roundstone Rye "92 Proof" named winner in 2016 Good Food Awards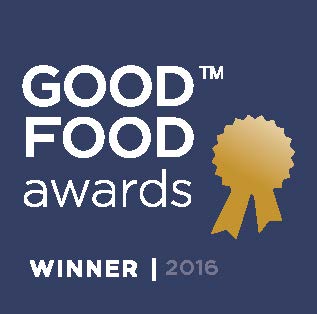 San Francisco, CA (January 15, 2016) – The Good Food Awards named Catoctin Creek Roundstone Rye "92 Proof" a winner in the 2016 Good Food Awards.
Over 800 people gathered tonight to pay tribute to 176 Good Food Award Winners of 2016. By the majestic Golden Gate Bridge on the San Francisco Bay numerous farmers, chefs, journalists, and activists united to celebrate the exceptional food crafters including luminaries Alice Waters, Nell Newman and Slow Food Founder, Carlo Petrini, who presented the awards.
The winners harken from 33 states, having risen to the top amongst 1,937 entries in a blind tasting with 203 judges held in September. The highest scoring entries were submitted to a rigorous vetting process to verify they met the sustainability and social responsibility criteria to win a Good Food Awards – with over two dozen ultimately disqualified. This year's winners represent the forefront of American craft food, making products that are delicious, respectful of the environment, and connected to communities and cultural traditions.
Accepting the award for Catoctin Creek was founder and chief distiller, Becky Harris.  "We are so happy to receive this Good Food Award," said Becky Harris. "This award is so special:  Not only are the products judged for taste and quality, but they are also judged for sustainability and how they're produced. We are thrilled to win on both taste and sustainability."
As Good Food Awards founder Sarah Weiner noted in her closing remarks: "Twenty years ago, it took travelling across the globe to encounter something so exquisite that it jolted me into seeing the world with new eyes. Now, you are giving people a taste of how good life can be right here on our own soil…changing America's definition of Good Food."
The full list of 2016 Good Food Award winners can be found here.
About the Good Food Awards: The Good Food Awards celebrates the kind of food we all want to eat: tasty, authentic and responsibly produced. We grant awards to outstanding American food producers and the farmers who provide their ingredients. Seedling Projects 501 (c) 3 organizes the Awards in collaboration with a broad community of food producers, food writers and passionate food-lovers. Find more information at: seedlingprojects.org and goodfoodawards.org.
About Catoctin Creek Distilling Company:  Catoctin Creek Distilling Company (120 West Main Street, Purcellville, VA 20132; Phone: 540-751-8404; Twitter: @CatoctinCreek) is the first distillery in Loudoun County Virginia since before prohibition. Certified organic and kosher, and family owned and operated, Catoctin Creek produces premium spirits: rye whisky and gin from organic sources, brandy from Virginia wines, and seasonal brandy. Catoctin Creek prides itself on offering high-quality and organic spirits. For media-related inquiries, please contact Scott Harris at This email address is being protected from spambots. You need JavaScript enabled to view it. or for more information on Catoctin Creek Distilling Company please visit www.catoctincreek.com.