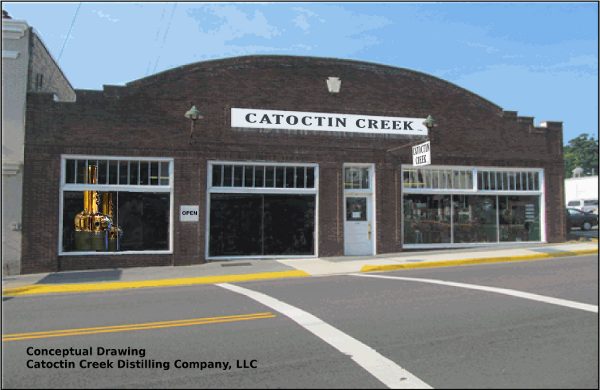 Purcellville, VA, September 3, 2012 – Catoctin Creek is in the final stages to purchase the historic Sam Case Building at 120 West Main Street in Purcellville, Virginia.  This building will allow the distillery to expand their operations with a new 300 gallon Kothe still, in addition to their existing 100 gallon Kothe still, providing a quadrupling of production capacity for the 3½ year old distillery.
"The Case Building was built in 1921 and first used as a Buick dealership," said Scott Harris, founder of Catoctin Creek.  "We initially looked at it and saw all this gorgeous unpainted brick, large windows and high ceilings and thought it would make a perfect distillery."  At 5,800 square feet, the building offers almost triple the floorspace of their existing facility on Richardson Lane.  Additionally, the distillery will be able to grow their retail and tourism operations with a much expanded retail store at the new facility.
"We are very excited to have Catoctin Creek Distillery on Main Street in Purcellville," said Mayor Bob Lazaro. "This will be a great attraction for our historic downtown.  Catoctin is a great local business, and will be a destination for years to come."
Financed through John Marshall Bank, the distillery plans to launch a nearly half-million dollar construction effort to renovate the building and create a modern distillery with a strong link to the past.  Enhancements planned include a new tasting room, public bathrooms, solar energy collectors, and dressing up the frontage on Main Street.
"John Marshall Bank is very pleased to have the opportunity to help fund the Case Building for Catoctin Creek Distillery," said James Bowman, Senior Vice President at the bank. "In a relatively short period of time, Scott and Becky have taken an idea and turned it into an exciting business. With this purchase, Catoctin Creek Distillery will be a destination location that will not only benefit Catoctin Creek, but the Town of Purcellville and the business community as a whole. We're thrilled to be a part of it."
The purchase contract will close this month, with renovations beginning in early 2013.  The company is expected to complete their move from Richardson Lane to Main Street by summer of 2013.
Catoctin Creek Distilling Company is the first distillery in Loudoun County Virginia since before prohibition. Certified eco-ganic and kosher, Catoctin Creek produces high quality spirits and liqueurs: rye whisky and gin from eco-ganic sources, brandy from Virginia wines, and seasonal specialty liqueurs. At Catoctin Creek, high quality and eco-ganic spirits and liqueurs are our passion. For more information, contact www.catoctincreek.com or 37251C East Richardson Lane, Purcellville, VA 20132. Tel: 540-751-8404.