September is Virginia Spirits Month! - Catoctin Creek News
It's 5 o'clock for the whole month of September!

September is VIRGINIA SPIRITS MONTH! Join us for the month-long party! We're talking special discounts with Virginia ABC, in-store tastings, spirits festivals, the launch of our new Virginia Spirits Trail and MORE, happening near you and beyond!
Virginia Spirits Day is Sept. 5 - 20% Discount! - All across the Commonwealth, online, and in every ABC store including our tasting room, Roundstone Rye 80 Proof is 20% off (a savings of over $9 per bottle).  One day only!! - Details here.
Discounts all month long - 5% off Roundstone Rye 92 Proof "Distiller's Edition" and Watershed Gin.
Launch of the Virginia Spirits Trail - In partnership with Virginia Tourism, we have some cool new maps, and if you visit 10 or more distilleries, you'll get a free t-shirt!  Pick up your free map at any participating distillery, or get one online, here.
ABC store tastings throughout the state - Visit with one of our friendly ambassadors at your local ABC store. Take a taste; buy a bottle!  Full schedule of stores, here.
Virginia Spirits Roadshows - We'll offer samplings and a chance to speak with local distillers:
For full information, click: http://www.virginiaspirits.org/september-2019/
Cheers to September!!
Now Available!
Roundstone Rye Cask Proof - HICKORY SYRUP BARREL FINISH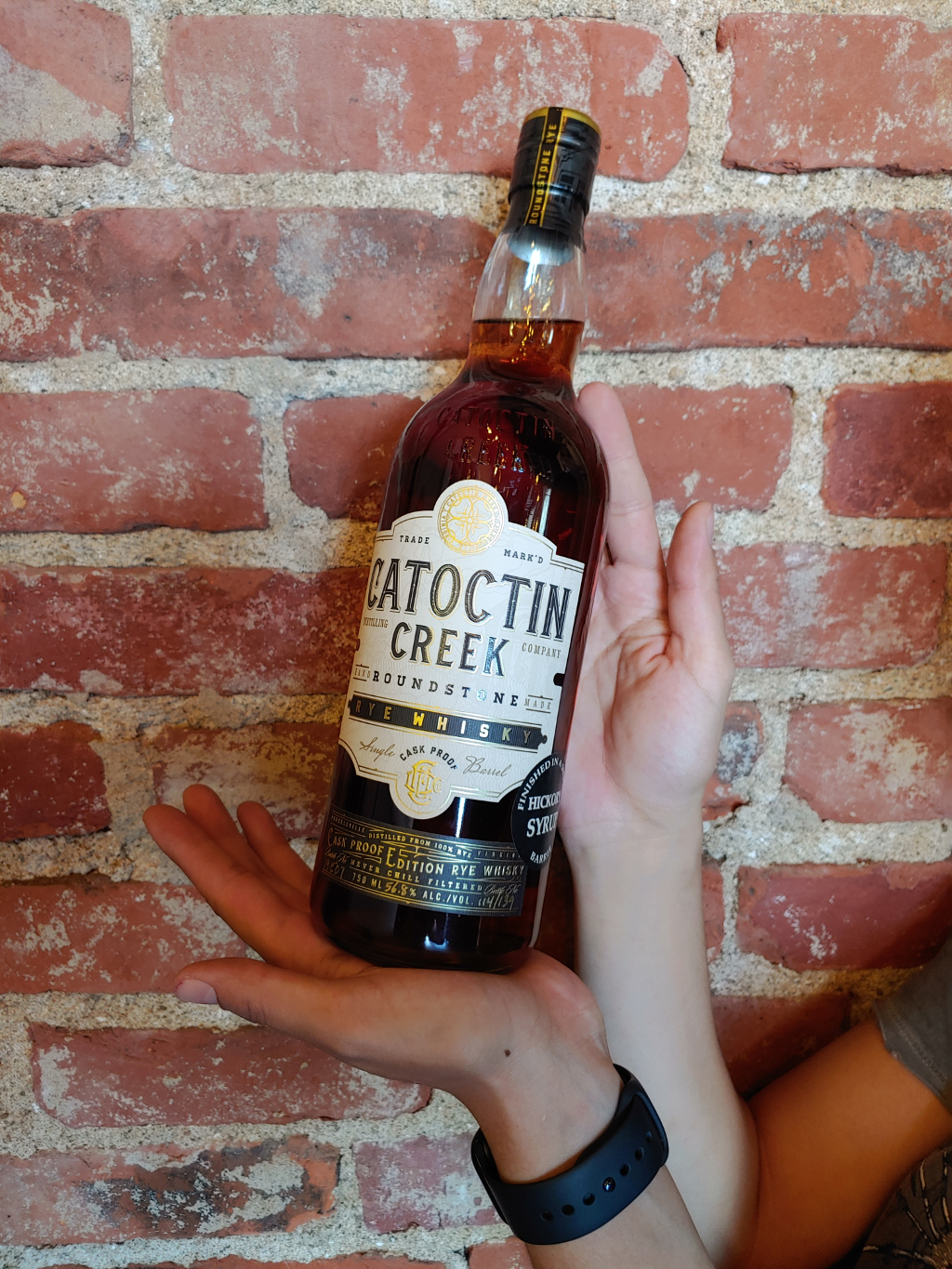 This month, we have the Roundstone Rye Cask Proof - Hickory Syrup Barrel finished whisky on sale in the tasting room.  This whisky was aged for two years in our regular white oak barrels, and then finished in a barrel used to age hickory syrup from Falling Bark Farm.  The resulting whisky is a full, rich, smoky, whisky with chewy chocolate toffee flavors, sour apple, honey, leather and raw tobacco.  This is decadent and perfect for sipping.  Come in and try a sample in the tasting room and pick up a bottle while they last!
(The Falling Bark syrup is amazing too, and we sell that in the tasting room as well! Perfect for Sunday morning pancakes!)
$89.90 per 750mL bottle, 58% ABV.
Upcoming Events
We have some great events in May. Here is the full list of events planned at the distillery and in the area this month.  Many events are free, so be sure to join us for something fun:
And a sneak peak at November:
Nov 4 - Battle of the Bartenders! - Back for our 2nd year, local area bartenders battle in this "Food Network style" competition, and you are the judge!  $65/pp
For the full list of events, check our events page.
Cocktail of the Month – The Lumber Yard
This one comes to us from Nightcap Cocktail Company, which you can find on Instagram at @nightcapcocktailco or on their web site.
The air is misty. You just woke up. Your flannel shirt is exuding the smell of last night's campfire. You leave the log cabin that you built by hand, pick up your axe, and head out for a day's work.

or... it's five o'clock on a Thursday and one sip of Catoctin Creek's cask-proof edition rye has you literally dreaming. Spec below, so you can dream, too.
2 oz Catoctin Creek Cask Proof Roundstone Rye
¼ oz black birch syrup
2 dashes star-anise bitters
Stir over ice. Smoke glass with applewood, anise, and cinnamon. Strain into old fashioned glass with large block of clear ice. Garnish with torched orange wedge.
Recipe courtesy Nightcap Cocktail Company; photo by Hilary Hyland and used with permission.
See this cocktail and hundreds more on our cocktails page.
In Closing...
As always, there are lots of fun and information on our Instagram, Facebook and Twitter pages, where you can stay up to date with the daily activities at the distillery. We are open every Tuesday through Sunday for tastings and bottle purchases, so stop by and see us sometime!
Cheers!
Scott & Becky