October Greetings from Catoctin Creek - Maple Cask, Cocktail Kits, Whisky Samplers, ALL NEW!
Welcoming October!
We hope you're having an awesome autumn!  We love this cooler weather... it is whisky weather!
We have so much in store this month!!!  Several new item releases, plus some cool events this quarter!  Please read on for details, below!
IT'S BACK!  Maple-Cask Finished Rye - Releases in October

The cask proof version of our ever-popular Roundstone Rye is a very special expression.  Released at approximately 58% ABV (it varies depending on the individual barrels), this is seriously strong whisky!  Delicious, dark, complex and ridiculously smooth for the proof, Roundstone Rye Cask Proof is released only about twice per year.  This expression is finished in a maple syrup barrel from Langdon Wood Maple Syrup, which gives a velvety maple note to an already extraordinary whisky.  750mL bottle, 58% ABV.
This one goes on sale Saturday, October 10th at 8am in the Online Store, and 12pm in the Tasting Room.  Supplies are limited, so we recommend buying it in the online store and selecting store pickup if you don't want to wait in line.
Once available, it will appear and you can purchase in our online store, here.
Rye Society Members may get their bottles at any time starting today.

NEW!  Cocktail Kits

This one-stop shopping cocktail kit will give you everything you need to make excellent cocktails at home! The kit contains one bottle of Catoctin Creek spirits, and all the bitters, mixers, and instructions needed to make at least eight cocktails at home! Plus, it is in a very handsome gift box, suitable for gifting!
Each month, we will feature a new cocktail, so save the recipe cards and collect them all!
The October feature cocktail is the Virginia Buck, including:
one bottle of Roundstone Rye 80 Proof

ginger beer

lime

sugar cubes

collectable recipe card
You can purchase in our online store, here.

NEW!  Whisky Sampler Gift Pack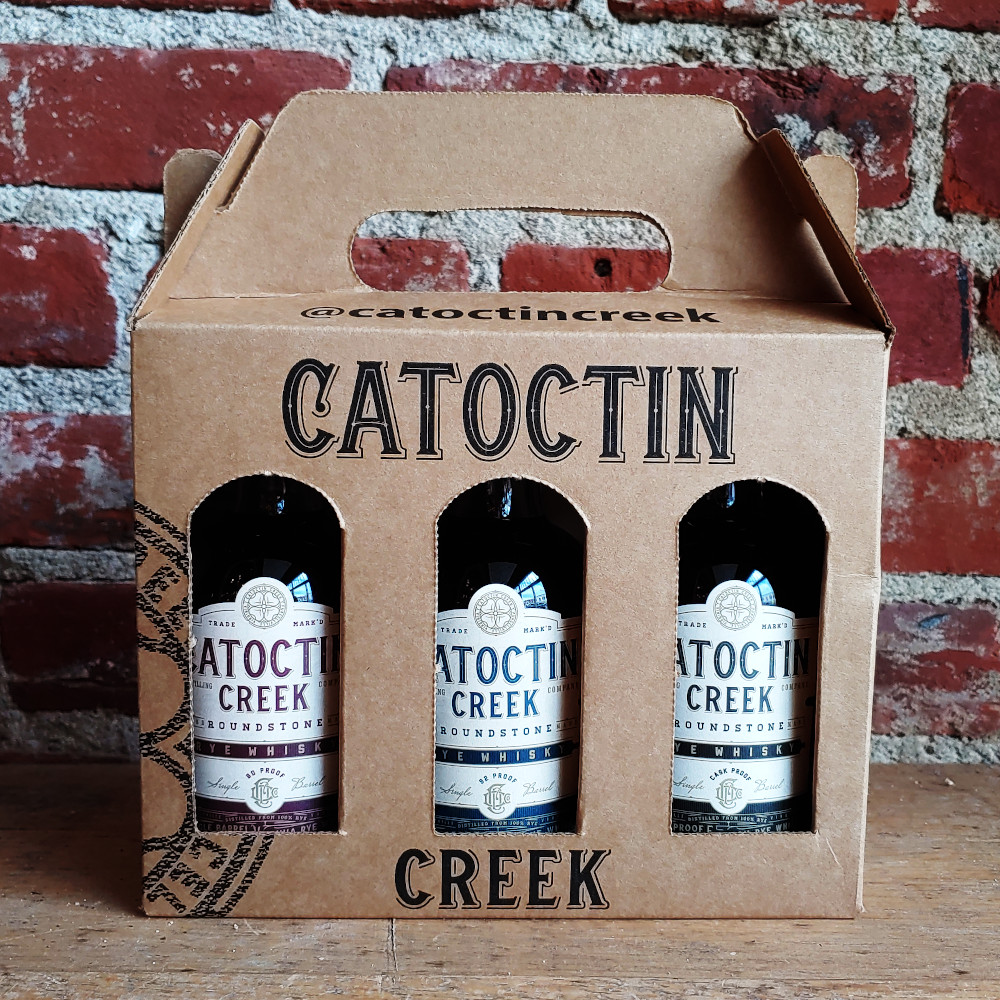 This whisky sampler pack is perfect for a "vertical tasting" of the entire Roundstone Rye product line. It comes with a 200mL bottle of our most popular Roundstone Rye 80 Proof, our 92 Proof "Distiller's Edition", and our limited edition Cask Proof. For the price of one bottle of Roundstone Rye 80 Proof, you get all three products! Perfect for gifting, or for whisky clubs that want to taste the whole line-up.

PLUS, each gift pack comes with a FREE tasting from the owners through Zoom - details on how to register are on the box.

All in a handy decorative cardboard gift box. You can purchase in our online store, here.
Announcing!  Catoctin Creek Bingo!  Get your card today!

Catoctin Creek is happy to announce, Catoctin Creek BINGO!  Whether you live in the District or in Virginia, we have a game for you!  Get your own personal bingo card, and then, visit as many of the establishments on your card as you can.  Each time you visit, order a Catoctin Creek drink from the bar (or carry-out, as the case may be), and you'll get a stamp on your card.  Get five stamps in a row (just like in bingo), and you will win a free branded t-shirt or hat.  Fill up the entire card, and we'll give you a really sweet Catoctin Creek branded hoodie!

You can download and print out your card below, or pick one up in person at the distillery or at participating restaurants and bars!  You are free to play both a DC card and a Virginia card at the same time.

Must be 21 years old to play. Valid only with approved stamps. One card per person, please.
Art of the Cocktail - Last two classes!

We have only two classes remaining!  Join us for this really popular online cocktail party!

We are pleased to present, our SIXTH year of this six-part educational series on the art of the cocktail. This year, we have to adapt ourselves to the "new normal" of COVID, and thus, the classes will all be online via Zoom.  Each week, we will send out a shopping list of items for you to pick up, plus the course materials.  Then, every Friday night, get yourself comfortably placed behind your bar, with your computer on and ready to go, and we will enjoy the class interactively just as if we were together in person.
Scott will reprise his first year material with a class studying the chronology of the cocktail from the early 1800's through modern day.  Ingredients will be easy to obtain, and the lessons will be fun as ever.  This will be via Zoom, so I still expect lots of interaction and questions and good times.  It's a drinks class, after all! 

As I mention in many of my classes, this class will be equal parts, cocktail how-to, history, and fun.
Tickets are reduced to $10 per person for the lessons, which leaves you room to purchase the ingredients.  You can purchase our spirits in our online store.

Finalist in the Small Business Awards - Loudoun Chamber
Catoctin Creek was selected as a finalist for the Main Street Business of the Year for the Loudoun County 26th Annual Small Business Awards.
Stay tuned to learn if we were selected for the People's Choice Award!! 
More to come!


Buy Your Spirits ONLINE for Delivery or Curbside Pickup
Virginia residents may buy your whisky, gin and brandy online!  The Virginia ABC now allows direct-to-consumer shipping!  We are now taking orders in our Online Shop.

       ORDER NOW  -  https://catoctincreekstore.com

If you are outside of Virginia, you may also order for online shipping, here.
You can also place curbside orders using the online shop, or simply call in your order at 540-751-3294.
Cocktail of the Month – The Tanyard Cocktail

The Waterford Fair is a tradition in Loudoun County, Virginia, that goes back 75 years! Every year, local producers gather to sell their wares: quilts, leather goods, woolen goods, cheese, beer, wine, clothing... you get the idea. Thousands of customers descend upon the gentle rolling landscape of Waterford to browse the fair and kick off autumn. 2020 has been a tough year, and this year, the fair will do its first virtual event.

This cocktail was created by the Waterford Fair as their official cocktail, using both our apple brandy and some of Doug Fabbioli's hard apple cider. This little beverage is very delicious, and packs a punch!
The Fair runs Oct 2-4.  Get your tickets to the Waterford Fair - HERE:  waterfordfairva.org
One 1" piece of fresh ginger, peeled
1½ tsp simple syrup (or agave syrup)
1½ oz Catoctin Creek Apple Brandy
1½ oz Fabbioli Cellars Attitude Adjuster (hard apple cider)
1½ oz chilled ginger beer
1 lime wedge
1 apple slice
In a cocktail shaker, muddle the sliced ginger with the simple syrup. Add the brandy and ice. Shake well and strain into an ince-filled glass and top with equal parts ginger beer and hard cider. Garnish with the lime wedge and apple slice.
Courtesy of the Waterford Fair and used with permission.
See this cocktail and hundreds more on our cocktails page.

Proudly supporting WhiskyCast

Catoctin Creek is proud to be one of the sponsors of WhiskyCast, and if you're not familiar with Whisky's longest-running podcast series, we encourage you to check it out. Each week, Mark Gillespie brings you the latest whisky news from all over the world, along with in-depth interviews, tasting notes, and much more. You can listen to WhiskyCast on most podcast apps, smart speakers, and at WhiskyCast.com.
In Closing...
As always, there are lots of fun and information on our Instagram, Facebook and Twitter pages, where you can stay up to date with the daily activities at the distillery. We are open every Tuesday through Sunday for tastings and bottle purchases, so stop by and see us sometime!
Cheers!
Scott & Becky