Greetings from Catoctin Creek - Peach Barrel Select releases in November!

Image credit:  Sir Scotchalot on Instagram
Welcoming November - Time to VOTE!
I am SO PROUD OF MY TEAM at Catoctin Creek! It's early voting in Virginia, and as a company, we will have 100% of our employees voting! For some of these folks, this is their first time voting ever!!! We even have two employees who will volunteer as poll workers this year!
Make your voice heard! VOTE!!
(Then, reward yourself with a Catoctin Creek - The Virginia Rye Whisky™!)
Here is information on how vote in your state:  https://www.washingtonpost.com/elections/2020/how-to-vote/
Peach Barrel Select Rye Whisky - Releases in November

Life's a peach! If you're in the pits, this whisky will put some fuzz on your peach blossoms.  (Okay, I'll stop.)

We have a very special release coming in November that we've never done before! We have approximately 540 bottles of our Barrel Select Rye Whisky, a mashbill of 100% Virginia rye, aged to perfection in our charred new oak barrels, and then finished for over one year in a peach brandy barrel from our Short Hill Mountain peach brandy.  This whisky brings a little of summer's warmth to those cooler nights sipping whisky socially distanced on our porches.
Becky tasted this one at various proofs, and really liked how the peach came through at 40% ABV.  Priced at $45.90, this is rich and fruity and delicious in a way that remind you of the best of summer's fruit.  Great to enjoy this fall, or as a special one time gift idea.

Goes on sale Monday, November 16th at 8am in the Online Store.  No need to wait in line or queue up!  The tasting room is closed that day.  Just go to the online store and select store pickup.  Or we'll ship it to you! The product will not show until the morning of the release, so don't fret if you don't see it until then!

Once available, it will appear and you can purchase in our online store, here. (Not before Nov 16)

Rye Society Members may get their bottles at any time starting next week.

Esquire Magazine - Ten Best Rye Whiskey Brands!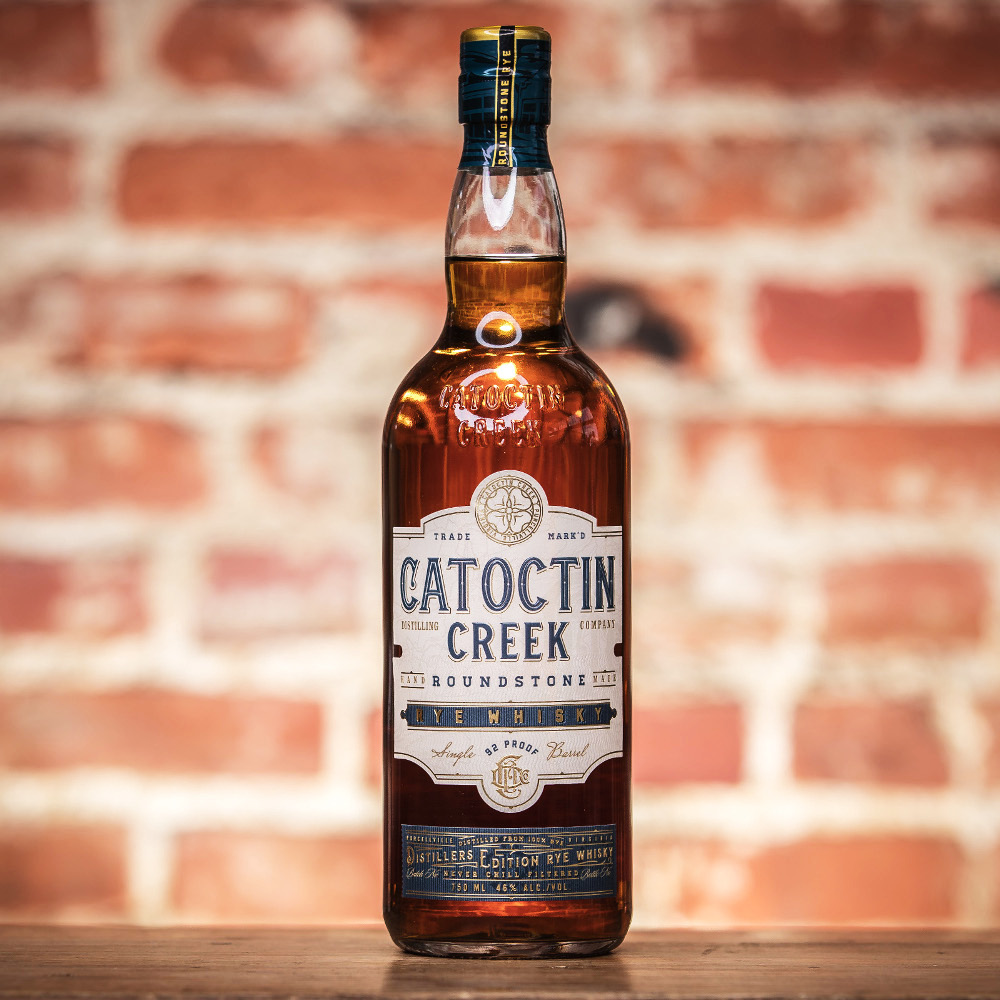 What a lovely thing to be included in Esquire's "10 Best Rye Whiskey Brands" article:
Another craft distillery with a strong focus on rye is Virginia's Catoctin Creek; it even trademarked the term "the Virginia Rye Whiskey." Founders Scott and Becky Harris (she's also the chief distiller) are committed to making high quality, small batch rye whiskey that doesn't lack for flavor or complexity. Some of these are young and relatively low ABV, like the 80-proof flagship Roundstone Rye, a nice sipping whiskey or Manhattan building block. All are made from a 100 percent rye mash bill, like the bottled-in-bond Rabble Rouser Rye, a 100-proof, four-year-old whiskey that explodes with spice and fruit. Go ahead and explore the limited releases from the distillery as well, like the Braddock Oak Single Barrel and Red Wine Finished Rye, or the biannual cask strength version of Roundstone Rye, which is finished in a maple syrup barrel.
You can read the full article, here.
The rest of 2020 - Catoctin Creek Bingo!  Get your card today!

We are playing Catoctin Creek BINGO!  Whether you live in the District or in Virginia, we have a game for you!  Get your own personal bingo card, and then, visit as many of the establishments on your card as you can.  Each time you visit, order a Catoctin Creek drink from the bar (or carry-out, as the case may be), and you'll get a stamp on your card.  Get five stamps in a row (just like in bingo), and you will win a free branded t-shirt or hat.  Fill up the entire card, and we'll give you a really sweet Catoctin Creek branded hoodie!

You can download and print out your card below, or pick one up in person at the distillery or at participating restaurants and bars!  You are free to play both a DC card and a Virginia card at the same time.

Must be 21 years old to play. Valid only with approved stamps. One card per person, please.

Buy Your Spirits ONLINE for Delivery or Curbside Pickup
Virginia residents may buy your whisky, gin and brandy online!  The Virginia ABC now allows direct-to-consumer shipping!  We are now taking orders in our Online Shop.

       ORDER NOW  -  https://catoctincreekstore.com

If you are outside of Virginia, you may also order for online shipping, here.
You can also place curbside orders using the online shop, or simply call in your order at 540-751-3294.
Cocktail of the Month – Hot Buttered Rye

This recipe was developed by Chad Robinson for the Edible DC spirits festival. The festival was held in late February, when the average daytime temperatures were about 19 degrees Fahrenheit, so we felt a warm cocktail was the perfect thing.
To make the cocktail best, you should batch up a large quantity of the ingredients ahead of time.
Per serving:
½ oz softened butter
1 oz brown sugar
ground cinnamon, nutmeg, allspice, clove, ginger
3 oz hot water
1 oz Catoctin Creek Roundstone Rye whisky
Mix soft butter, brown sugar and a dash of each of the spices together thoroughly. This is the batter.
Add 3 oz of boiling water to your batter and stir well until a frothy top forms. Stir in your rye and garnish with nutmeg or a cinnamon stick.
Cocktail by Chad Robinson.  Photo by Sonja Bradfield, and used with permission.
See this cocktail and hundreds more on our cocktails page.

Proudly supporting WhiskyCast

Catoctin Creek is proud to be one of the sponsors of WhiskyCast, and if you're not familiar with Whisky's longest-running podcast series, we encourage you to check it out. Each week, Mark Gillespie brings you the latest whisky news from all over the world, along with in-depth interviews, tasting notes, and much more. You can listen to WhiskyCast on most podcast apps, smart speakers, and at WhiskyCast.com.
In Closing...
As always, there are lots of fun and information on our Instagram, Facebook and Twitter pages, where you can stay up to date with the daily activities at the distillery. We are open every Tuesday through Sunday for tastings and bottle purchases, so stop by and see us sometime!
Cheers!
Scott & Becky