November 2010 Update
Announcing the November Bottling Workshop... Volunteers Wanted!
Catoctin Creek® Distilling Company will conduct a BOTTLING DAY on Saturday, November 13. Volunteers wanted. Find out more here and contact us to register.
Due to overwhelming demand, space is limited to the first 15 people responding.
News for November
Lift up your glass both Bold and Meek,
For those beyond praise!
Those good folks at Catoctin Creek
(with nary ought an amber liquid),
have cured somber mood and general malaise!
-- John Clarkson
October is over; the leaves are turning, and a brisk wind is blowing. It is autumn in Virginia. What an appropriate time to return to rye spirits! By day we're busily mashing and distilling our rye whisky, and by night, we're hunkered by the fire sipping a glass of Roundstone Rye or Mosby's Spirit.
Early in October, we received some great reviews on American Craft Spirits. It is safe to say that ACS enjoyed the Roundstone Rye, loved the Watershed Gin, and fell over the moon for the Mosby's Spirit. Indeed, they rated it a 95, saying it was "hands down the best white [whisky] ever tasted." Wow! For those of you interested, you can read the full reviews by clicking the links to the products above. And thank you, American Craft Spirits!
We were also honored that Catoctin Creek was selected as a finalist in the Loudoun County Chamber of Commerce Small Business of the Year awards. Further, both of us personally were chosen as finalists in the Chamber's Entrepreneur of the Year award. Thank you to all of you out there who voted for us in this competition. We'll find out next week how we do in the awards, but win or lose, we're just happy to be nominated.
Catoctin Creek® Cask Purchase Program
Ever wish you could own your own cask of whisky? The Catoctin Creek® Cask Purchase Program may be for you. For an investment of $5000 (taxes and shipping extra), you can own a whole cask (estimated at 150 bottles at cask strength) of a truly unique single-cask expression of Catoctin Creek eco-ganic rye whisky. Here is an opportunity to own a one-of-a-kind treasure which you can even get the chance to help distill yourself at our distillery. Now, where else are you going to get that kind of opportunity?  Click here fore more details.
Pearousia Pear Brandy - Only 150 Bottles Left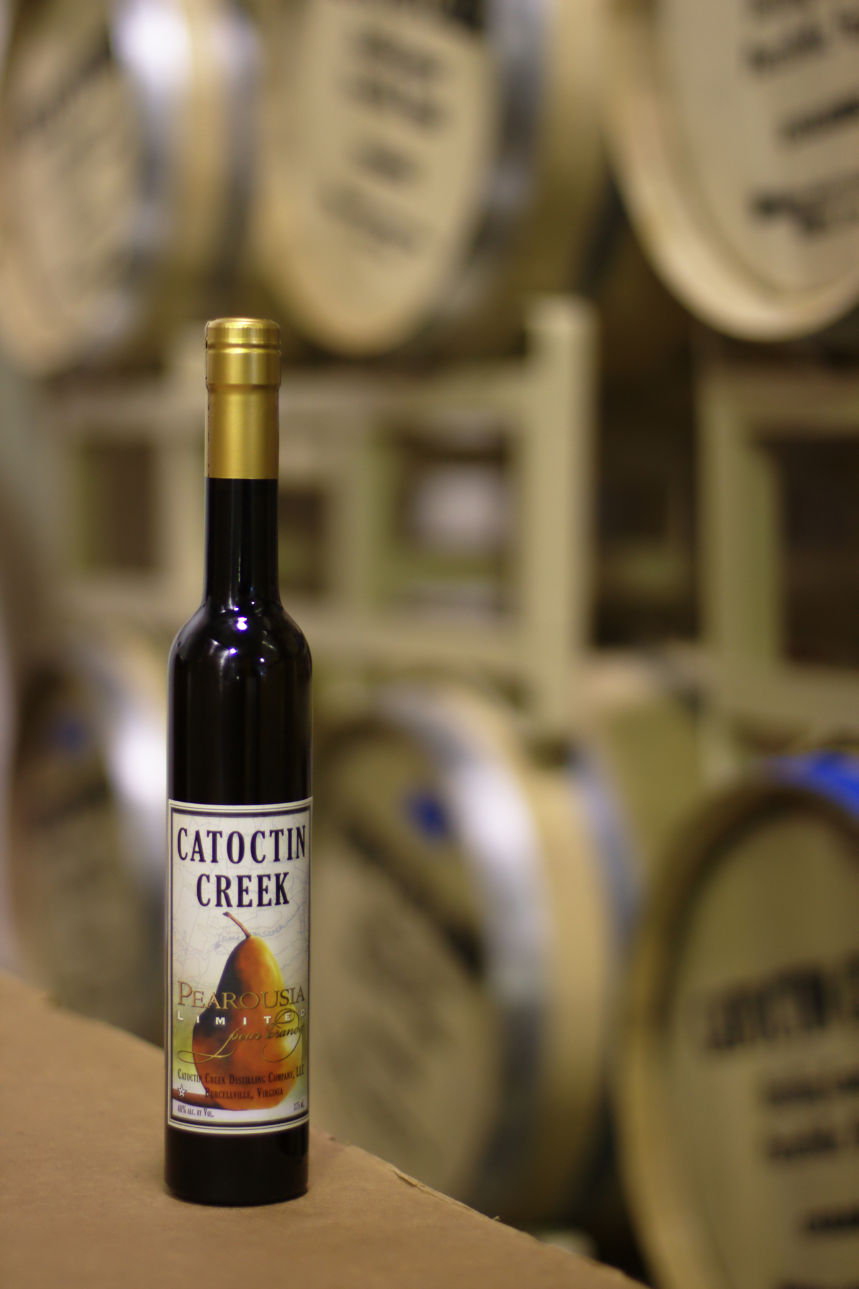 If you're looking for a unique gift for Christmas or Hanukkah, you might consider our Pearousia pear brandy as a stocking stuffer. Now available throughout Maryland, DC and Virginia, we have only 150 bottles left in stock. In Virginia, you'll need to go to the ABC store and tell the clerk that you'd like to special order product #952556. (You won't find it on most of the shelves because it's so limited.) Be sure to get yours today... before it's gone!
Finally, a big thanks to the latest bunch of restaurants to bring in Catoctin Creek spirits. Restaurant Eve, PX, The Chesapeake Room, Mokomandy, and Buck's Fishing and Camping all picked up Catoctin Creek last month. Be sure to pay these fine folks a visit, and don't be afraid to ask for "Catoctin Creek" at your local retailer.
As always, there are lots of fun and information on our Facebook and Twitter pages, where you can stay up to date with the daily activities at the distillery.  We just topped 2500 users on Facebook! Tours are always free, so stop by and see us sometime!
Remember, "Think Global, Drink LOCAL!"SM
Cheers!
Scott & Becky