Catoctin Creek Distillery: 'A Strategic Investor is More Than Just Money' 
This article is a reprint of one that recently appeared in the Loudoun Virginia Economic Development website by Brian Tinsman, which sources information from Jake Emen's article in Distiller.
Very few entrepreneurs start a small business without dreams of growing larger. Even fewer take the financial risk of starting a business without hopes of future outside investment.

That was the case for Loudoun County's Catoctin Creek Distillery, privately owned by Scott and Becky Harris, which accepted a minority stake investment from Constellation Brands in January of 2017. The couple used the capital to grow production at their Purcellville facility, increase marketing and create new jobs.

Prior to making that decision, they spent more than a year looking for the right investment partner, negotiating with more than a dozen potential investors.

"Gaining investment has been our plan from the beginning…[but] a strategic venture investor is more than just money," Scott Harris told the American Distilling Institute. "The company is our baby, and we did not intend to give our baby away or lose control.

"Constellation is a big player in the liquor business, so they have been critically important in helping us find and choose the right distributors, manage our decision-making process and as a check and balance on our books to make sure everything is correctly managed. We welcome the help and oversight."

The investment has already allowed Catoctin Creek to build a new warehouse and expand distribution from 10 to 25 states. Harris acknowledged the challenge of working through expectations and reporting financial figures to an outside entity. However, he added that the process has been better than he expected.

It's a remarkable journey for the Loudoun entrepreneurs, who started during the heart of the recession in 2009, with funding from personal finances, an SBA loan, and help from neighbors and friends in the community.

"When Becky and I first started the company, we bootstrapped with our own life savings and used our personal finances as equity," he said. "That creates a very stressful situation because if you fail, you lose everything."

The Harrises have done just the opposite. Now sold in 26 U.S. states and in Europe and Asia, Catoctin Creek has won the most awards of any whiskey made in Virginia. After the addition of an investment partner, Catoctin Creek Distillery is poised for even greater success well into the future.
Three AWESOME Events in November!
We have three awesome events coming up, and more in December.  Check them all out on our web page at the Events tab.
Bottling Workshop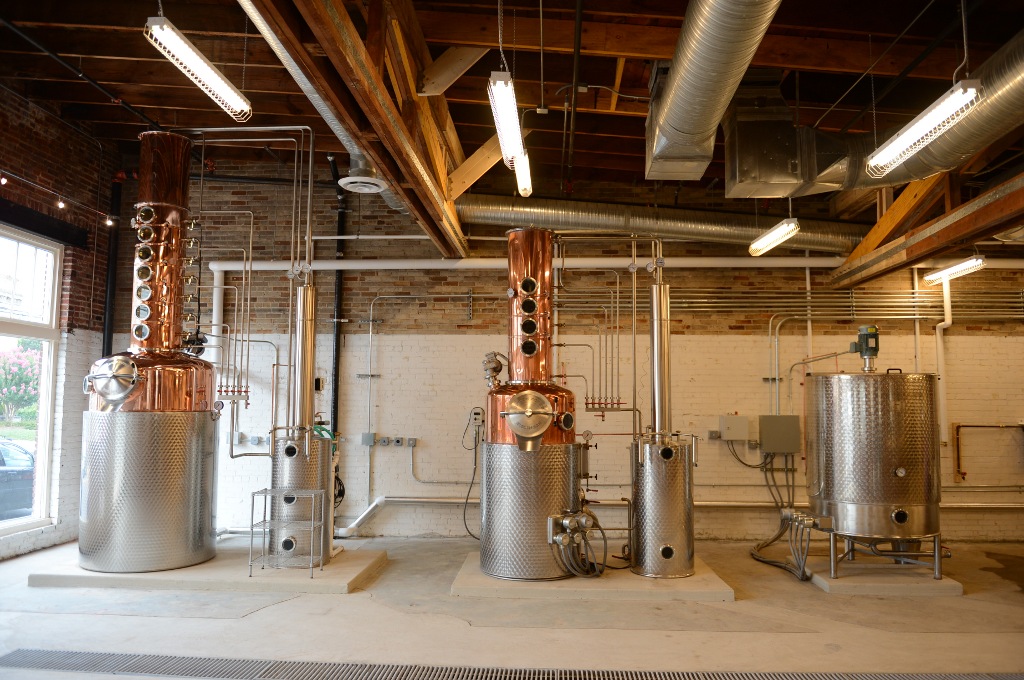 Have you ever bottled with us before?  Here are some of the reviews from TripAdvisor:
Melanie F. says: Great, Great, Great experience! Brandon, Scott and Becky were wonderful, helpful, and educating to work with! My husband and I were visiting the area for the weekend, and his love of whiskeys made me sign us up for this workshop! Even if the workshop is unavailable, i highly recommend a visit to the distillery! Thanks again [for] the awesome experience!
Vesna C. says: I learned so much at this bottling workshop. For example, I didn't know that rye whiskey started out in Virginia (and not in Kentucky, as most tend to believe)! It was fascinating to learn about how spirits are produced at Catoctin from start to finish. I bottled my own rye to take home and look forward to popping it open fireside with friends this fall. I enjoyed meeting Scott & Becky - they've perfected the craft and have created an impressive brand. We savored our tastings in a warm and friendly atmosphere in the heart of charming Purcellville. I highly recommend a visit!
TNmilt says: Why did I wait so long to do this? My officemate has been telling me how great a trip to Catoctin Creek Distillery would be. Last Saturday I finally went. It was a wonderful, memorable experience. I learned a lot, and I had some epic tastes. Next, I'm going to go back and take the bottling workshop. These folks are making a premium product, and they are happy to tell you how they get it to be so good.
Rebekah W. says: My husband and I had never done an event like the bottling workshop before, but it was so much fun! We learned so much about the [process] of making whiskey and then got to try our hand at bottling. You can really feel the passion the owners and workers have for the product they make and you can't help but get pulled into it while you're there. We've been telling all of our friends about it and would definitely recommend to others!
Which is to say, you should join us at this FREE event!!  Learn more, here, or RSVP NOW! 
Jim Malcolm, Scottish Troubadour
We are delighted for the third visit from Jim Malcolm to Catoctin Creek! 
Jim Malcolm is the ultimate Scots troubadour. Travelling the world with his guitar, harmonicas, and engaging wit, he sings the traditional songs of Scotland and his own masterfully crafted songs in a style which is modern and accessible, yet utterly authentic. He is highly regarded as an interpreter of the songs of Robert Burns, and has been described as "one of the finest singers in Scotland in any style".
Tickets are on sale now and going fast.  Learn more, here, or BUY NOW!
Nightcap with Kara Newman!
Catoctin Creek is DELIGHTED to host spirits writer and cocktail enthusiast, Kara Newman, for an event celebrating the release of her new cocktail book, Nightcap! 
A nightcap is the perfect way to end the night, and author Kara Newman knows just how to make them. This gifty, foil-accented book contains more than 40 cocktail recipes—some to keep the night going, some that will help ease you to sleep, some that can double as dessert, and some that can soothe the stomach after a hearty meal. There are classics like the sweet and creamy Brandy Alexander, new takes on old favorites like the Black Manhattan, which swaps an aperitif for the classic vermouth, and simple new ideas like the Open & Shut, which combines equal parts amaro and cognac for a slow sipper. Whatever kind of night it's been, Nightcap is the perfect way to top it off.
About Ms. Newman:
Kara Newman is the Spirits Editor for Wine Enthusiast magazine. She's also the author of several books, including Shake.Stir.Sip., Road Soda, and most recently NIGHTCAP: More Than 40 Cocktails to Close Out Any Evening. 
Your ticket to the event includes three cocktails from the book, plus a signed copy of Nightcap by the author! During the event, Ms. Newman will be available for friendly discussion and any questions about the book.  Extra copies of the book will be available at the distillery for sale. 
Tickets are on sale now.  Learn more, here, or BUY NOW!
Cocktail of the Month – Linda's Autumn Punch
Tis the season for autumn flavors!  Nothing goes with falling leaves and cooler breezes than crisp apple cider, fall spices and rye whisky!  Here is a punch that you can enjoy, cold or hot!
3 cups Catoctin Creek Roundstone Rye
1 cup lemon juice
1 cup ginger-cinnamon syrup*
6 cups fresh apple cider
*To make the ginger-cinnamon syrup:
1/2 lb fresh ginger root
5 cinnamon sticks
2 cups water
granulated cane sugar
Thinly slice ginger root (no need to peel!) and boil with cinnamon sticks in water for 45 minutes. Strain, and add 1/3 volume of granulated sugar to remaining hot liquid. Example: if after straining, you are left with 1.5 cups ginger-cinnamon liquid, add 1/2 cup sugar.
Recipe courtesy Linda Jockers.
See this cocktail and hundreds more on our cocktails page.
So Long For Now
As always, we thank you for your support as we continue to craft the finest spirits in Virginia. Please visit our Instagram, Facebook and Twitter pages, where you can stay up to date with the daily activities at the distillery. We are open every Tuesday through Sunday for tastings and bottle purchases, so stop by and see us sometime!
Cheers!
Scott & Becky