Winter Greetings!
February is here, which means that 2018 is well underway!  And what a start to the new year it's been!  We've been so extremely busy, all thanks to the great folks out there like you, who continue to buy our products and support our brand.  We couldn't be more grateful!  Thank you!!
A BOLD new look is here!
We're finally rolling out our new labels, and we hope you will like them!  We spent most of 2017 doing a refresh on our branding, and like the way things turned out.  Here are some highlights of the new branding:
A new "masthead", which updates the old font with some new details while keeping to the same general typeface
Our new monogram at the bottom of the label
Our new logo, a dogwood blossom, for the state flower of Virginia
A new color scheme to readily differentiate product types
Lots of beautiful gold-foil, spot enamel, emboss and deboss details on the label
An old prohibition style "ticket" on the bottom of the front label, with particular information for each brand listed
The shape of the label, the top of which mirrors the roof line of our building in Purcellville
Updated capsules that coordinate with each brand, with our building ghosted in the background
And if you look hard enough, still the same map of Loudoun County which has been on every label since the beginning!
Hope you will enjoy these as much as we do!  A special thanks to Thoroughbred Spirits Group of Chicago, Illinois, for the brand consulting and development.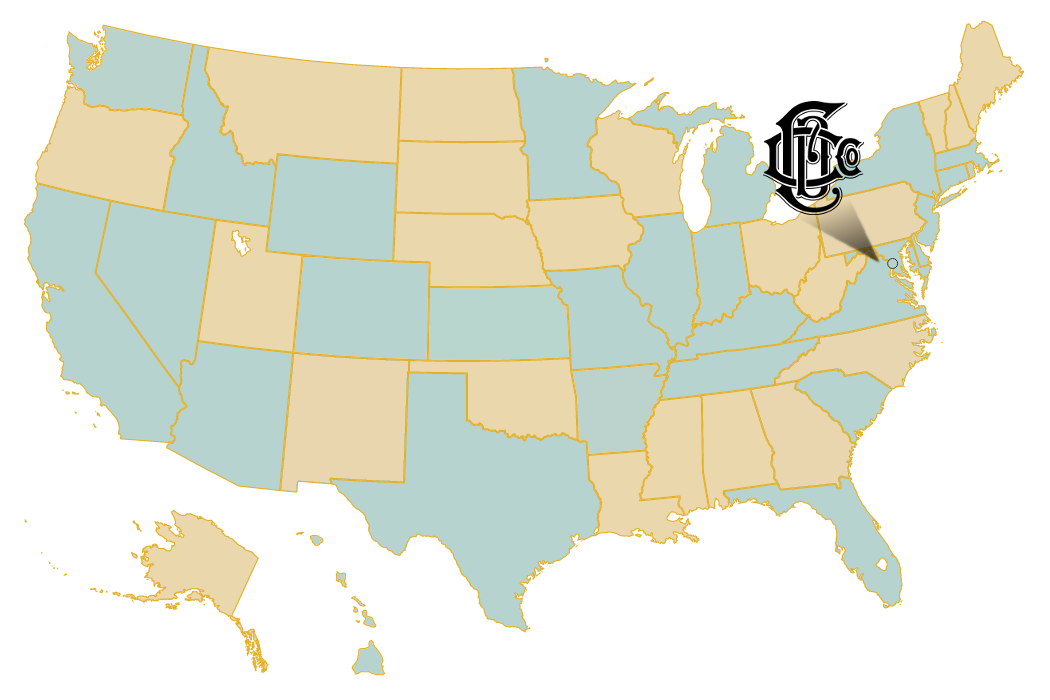 National Expansion Announced
In January, we announced our national expansion plans – 10 new states, bringing us to 25 states and the District of Columbia.  New states include:
Arizona
California
Florida
Illinois
Kentucky
Minnesota
Missouri
Nevada
New Mexico
South Carolina
Texas
If you are in one of these new states, you are now able to get our spirits!  For full details, check out our information page:  https://catoctincreekdistilling.com/wheretobuy
Good Food Awards
Along with all our other good news, we received a Good Food Award in San Francisco for our Roundstone Rye!
The winners were chosen among 2,057 entries in a blind tasting with judges held in September. The highest scoring entries were submitted to a rigorous vetting process to verify they met the sustainability and social responsibility criteria to win a Good Food Awards. This year's winners represent the forefront of American craft food, making products that are delicious, respectful of the environment, and connected to communities and cultural traditions.
Lauren Barrett, our Assistant General Manager, was in San Francisco to receive the award from Alice Waters, former chef-owner of Chez Panisse and noted farm-to-table advocate.
"We are thrilled to once again be receiving recognition for our flagship Roundstone Rye whisky," said Ms. Barrett. "There's no other award quite like the Good Food Awards medal. We won on the taste of the product, but also on the sustainability."
Old Tom Gin on the Tasting Room Shelves
In January, we released our ever popular, seasonal release of Old Tom Gin!  This is a style of gin that was popular in the mid-1800's, and went out of style around 1890.  This particular gin is our regular Watershed Gin rested in our peach brandy barrels, giving it a fruity quality, then with a touch of sweetness added.  It works perfectly in old pre-prohibition cocktails like the Martinez, the Turf Club, or a French 75!
While supplies last!
Cool events this Winter!
There are some amazing events planned for winter!  Check out the full list here. Be sure to join us for all the fun!   
Art of the Cocktail - A six week series!
Concluding in February, every Friday night at 7pm. Come to one, or come to all of them!  You're sure to learn about the history and construction of the cocktail, plus enjoy several cocktails while you're there!  Scott Harris, founder and distiller at Catoctin Creek, will appear in the tasting room every Friday for this six-week series. Beginning at 7pm, Scott will personally guide you through the history and construction of several cocktail styles, including the old classics, and modern takes on the cocktail!  There will be samples for sharing, and you are encouraged to buy bottles to take home with you and practice.  Lots of practice.
Feb 2 - Moonshine
Feb 9 - Toddies
Valentine's Dinner at the Distillery
February 16, 7pm. Dinner will be a four-course affair, using seasonal produce and local suppliers, prepared by Chefs Wes Rosati and Maria Aros of The Wandering Chef. Enjoy a private tour of the distillery, while we personally craft cocktails expertly paired with your dinner! This will be a magical evening, and one not to miss!! Dinner is priced at $99, and includes all four courses and cocktails.
Bottling Workshop
March 17, 10am. Catoctin Creek Distilling Company will conduct a BOTTLING DAY on Saturday, March 17, at 10:00am. Volunteers wanted. Learn how to bottle, cap, seal, and label Roundstone Rye. Get your chance to work the magic "whisky cow"! Or maybe you'd like to try your hands at operating "Ninette", our fancy French labeling machine!  This event is FREE to attend!
Cocktail of the Month – Apple Brandy Crusta
This cocktail comes to us from Magnolia's at the Mill, a great farm-to-table restaurant in Purcellville, Virginia.
1½ oz Catoctin Creek Apple Brandy
½ oz Maraschino liqueur
1-2 dashes Angostura bitters
1-2 dash Baked apple bitters
½ oz Lemon juice
½ oz Cointreau
Combine all ingredients in a shaker of ice, stir, strain into a glass with a sugar-crust rim.  Garnish with an apple slice or an orange peel.
Recipe courtesy Matt Perkins.
See this cocktail and hundreds more on our cocktails page.
So Long For Now
As always, we thank you for your support as we continue to craft the finest spirits in Virginia. Please visit our Instagram, Facebook and Twitter pages, where you can stay up to date with the daily activities at the distillery. We are open every Tuesday through Sunday for tastings and bottle purchases, so stop by and see us sometime!
Cheers!
Scott & Becky