Join us for dinner on St. Valentine's Day!
Bring that someone special in your life to an evening they'll not soon forget.  The evening begins with a private tour of the distillery from owners, Scott and Becky Harris. Becky will guide you through the process of making whisky, and Scott will describe for you the wonderful history of our "new" building, which is nearly 100 years old.
Dinner will be a four-course affair, using seasonal produce and local suppliers, prepared by Chefs Wes Rosati and Maria Aros of The Wandering Chef. Scott & Becky Harris will personally craft cocktails expertly paired with your dinner! This will be a magical evening, and one not to miss!!
Dinner is priced at $99, and includes all four courses and cocktails.  For more details, click here.
Kings Mountain Malt Whisky Release!
Coming February 20th! Our first ever American Malt Whisky! Brewed in collaboration with Heritage Brewing in Manassas, Virginia, this limited quantity whisky will be available on a special release day along with its sister beer, the Kings Mountain scotch ale, aged in Catoctin Creek whisky barrels! Only 344 bottles of the whisky were made.
This whisky is the purest expression of Heritage's Kings Mountain beer, and it is remarkable to see the close relationship between the whisky and the beer. There is a recognizable barley sweetness in the beer, and that carries through note-for-note in the whisky. The whisky is highly aromatic, and reminds one of fields of lavender on a bright sunny day. After the first sip, the whisky settles in at a very comfortable 92 proof, and the malty goodness lingers forever. It is a fine sipping whisky, made from a fine sipping beer.
The event will kick off at Magnolias in Purcellville, where Heritage will have a tap takeover. There, you can sample the beer, then mosey down the street to Catoctin Creek and pick up your bottle of Catoctin Creek Kings Mountain whisky. Both Scott and Sean, owners of the two companies, will be on hand to sign bottles, visit and answer questions.
For more information, click here.
Catoctin Wins at 2016 Good Food Awards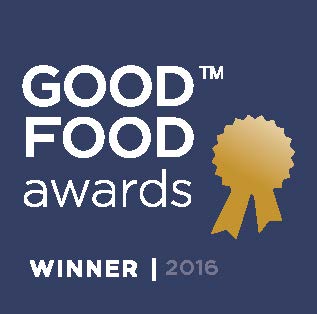 January was very good to us! What a way to kick off 2016!  Catoctin Creek Roundstone Rye "92 Proof" was named a winner in the 2016 Good Food Awards.
The winners harken from 33 states, having risen to the top amongst 1,937 entries in a blind tasting with 203 judges held in September. The highest scoring entries were submitted to a rigorous vetting process to verify they met the sustainability and social responsibility criteria to win a Good Food Awards – with over two dozen ultimately disqualified. This year's winners represent the forefront of American craft food, making products that are delicious, respectful of the environment, and connected to communities and cultural traditions.
Accepting the award for Catoctin Creek was founder and chief distiller, Becky Harris.  "We are so happy to receive this Good Food Award," said Becky Harris. "This award is so special:  Not only are the products judged for taste and quality, but they are also judged for sustainability and how they're produced. We are thrilled to win on both taste and sustainability."
To read the full press release, click here.
Catoctin Creek Named in Whisky Magazine's Icons of Whisky America 2016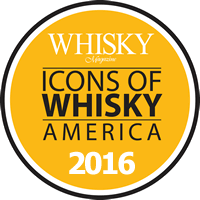 Also in January, Whisky Magazine recently announced their Icons of Whisky awards, and in the American division, Catoctin Creek Distilling Company was shortlisted for three of the awards:
Craft Producer of the Year
Master Distiller of the Year (Becky Harris)
Brand Ambassador of the Year (Chad Robinson)
"While we weren't ultimately selected for the final awards," remarked Scott Harris, founder of the distillery, "to be included in the shortlist among such great industry names is an honor indeed for which we're very proud!"
To read the full press release, click here.
Upcoming Events
Here is the full list of events planned at the distillery and in the area this month.  Many events are free, so be sure to join us for something fun:
For the full list of events, check our events page.
Cocktail of the Month – Catoctin Cocktail!
This is a variant on the classic "Canadian Cocktail" but is so much better when made with a 100% rye whisky. Mmmmm..... delicious, eh!

2 oz Catoctin Creek Roundstone Rye Whisky
1/2 oz Cointreau or triple sec
1/2 tsp superfine sugar
1 dash bitters (Peychauds is a good one)
In a shaker half filled with ice cubes, combine all the ingredients. Shake well, strain and pour into a cocktail glass.
See this cocktail and hundreds more on our cocktails page.
In Closing...
As always, there are lots of fun and information on our Instagram, Facebook and Twitter pages, where you can stay up to date with the daily activities at the distillery. We are open every Tuesday through Sunday for tastings and bottle purchases, so stop by and see us sometime!
Cheers!
Scott & Becky