Welcome to September!

Autumn is on its way, and we could not be happier!  This has been an odd, strangely cool and wet summer, and if it's all the same to you, I'm ready for cooler nights, changing leaves, sweaters, and whisky!  We've got some amazing things lined up for the fall, so stay tuned and check out the cool things below!

Men's Journal – Catoctin Creek is One of Five Great American Craft Whiskeys

Thanks go out to Jason Diamond, from Men's Journal, for calling out five American craft whiskeys doing it right!  We were thrilled to be named among other fine whiskey makers like FEW and Dry Fly, producing great new American whiskey:
A bottle of Roundstone Rye 92-proof is what you're looking for if you want your socks knocked off. Just the amount of spice you'd expect from a great rye, but it won't have you breathing fire. If you're looking for something a little more subtle, a bottle of sweet and spicy regular Roundstone Rye should always be within reach. You can't ever go wrong with Catoctin Creek. 
Wow!!  To read the entire story, click here.
Announcing the Catoctin Creek VIP Club!

We've had lots of requests for this, so without further adieu...
If you would like to get the inside scoop on rare releases, VIP member-only parties, and other goodies, you should become a member of our VIP Club!  Membership in the club is $300 per year, and includes these great benefits:
Dinner for two at the distillery - Join us on one of our regular distillery dinners.  You and your guest dine with us! (A $200 value!)
20% off all distillery merchandise - Everything in our store, except alcohol (per ABC regulations)
20% off all events - Concerts, parties, etc.  (Private events excluded, of course)
20% off all distillery facility rental fees - Plan your next rehearsal dinner, corporate function or birthday party at our place!  (A $240 value!)
Choice of membership hat or t-shirt
Free unlimited tours all year - For you and three guests.
First access to new and limited release items - Items like Roundstone Rye Cask Proof, Apple Brandy, and Barrel-Aged Gin
VIP invitation to exclusive parties at the distillery - Come experience rare behind-the-scenes tastings, VIP members only!
To purchase a membership, simply contact us at the distillery by telephone at 540-751-8404.  We will take your credit card payment over the phone and you'll receive our membership package in the mail!  Or, if you prefer, you may download and print our VIP registration brochure.  Fill out your details and mail or email it to us at the address on the back of the brochure.
100 Year Old Whiskey Tasting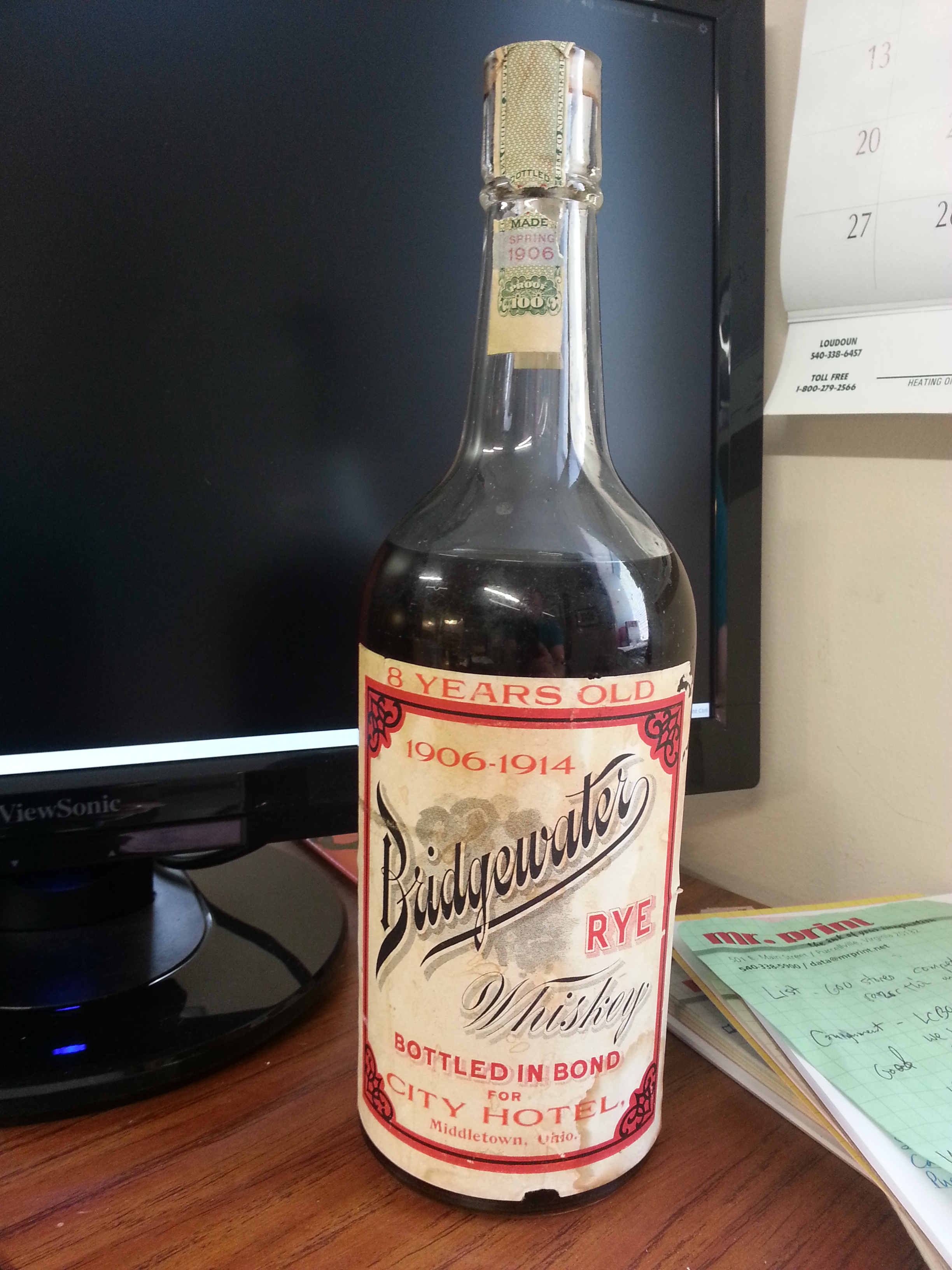 Before Scotch, before bourbon, there was rye whiskey! Many people don't realize the important history that rye whiskey played in the United States. Before the Revolutionary War, rum was the predominant spirit of the colonies, but after the revolution, the British cut the colonists from sources of sugar cane. America had to look internally for a source for distilled spirits, and rye grain was abundant and easily available. George Washington distilled rye whiskey at Mount Vernon, and the Whiskey Rebellion in western Pennsylvania was fought over rye whiskey. Bourbon and Scotch came much, much later. Rye was king!
We love this history, so we are thrilled to have obtained exactly one bottle of rye whiskey that was bottled in 1914. An anonymous donor has requested that we open and taste the contents of this bottle of whiskey that has been in his family since before Prohibition. The whiskey is called "Bridgewater Rye Whiskey", distilled in 1906 at the Eagle Distillery in Standley, KY, and bottled in bond in 1914, exactly 100 years ago! This 8 year old spirit is still sealed with its tax stamp. We'll open it and share tastes of this one of a kind spirit this one night only.
You will never have an event like this again. Do not miss this!
There is no fee to participate, but you must be a VIP member to receive an invitation to this event. For more details on the VIP club, see the VIP Club section, above.
Date:
Sunday, October 19
Time:
7:00pm
Where:
Catoctin Creek Distillery
120 W. Main St
Purcellville, VA
Price:
Free, for VIP members only

Eagle Distillery, Stanley, Kentucky
Upcoming Events
There are a variety of great events planned for the month that should prove entertaining and educational:
For the full list of events, check our events page.
Cocktail of the Month – Peanut Old Fashioned from Dogwood Tavern

This recipe comes to us from Dogwood Tavern in Falls Church, Virginia, and celebrates everything Virginia:  peanuts, honey, and Roundstone Rye!  Give yourself some time in advance to infuse the rye when making this recipe.

2 oz Peanut-infused Catoctin Creek Roundstone Rye*
¾ oz Virginia honey syrup (equal parts honey and hot water)
2 dashes Angostura bitters
Lemon peel
Brandied cherry
Combine all the ingredients into a chilled pint glass filled with ice.  Stir the drink about 30 times.  Strain into a large rocks-filled double old fashioned glass.  Express the lemon peel over the top of the cocktail, rim the glass with it and drop it in along with a brandied cherry.
*Peanut-Infused Roundstone Rye
3 cups dry roasted Virginia peanuts (unsalted)
1 liter of Catoctin Creek Roundstone Rye
Remove the skins from the peanuts.  Rough chop peanuts (not much). 
Combine the peanuts and rye in a container shake a couple times and place in a cool dark place.  Shake the container around 5 times during the 12 hours that the peanut rye infusion is going.  Place the infusion into the freezer for 12 hours.
Strain the Infusion through a fine mesh strainer, then through cheese cloth. Place the infused rye back into the Roundstone Rye and label the bottle.  Make sure to clean the outside of the bottle for anyone who might have allergies.
Recipe and photo courtesy of Dogwood Tavern and used with permission.
See this cocktail and over one hundred more on our cocktails page.
In Closing...
As always, there are lots of fun and information on our Facebook and Twitter pages, where you can stay up to date with the daily activities at the distillery. We do tours and tastings every day, so stop by and see us sometime!
Cheers!
Scott & Becky