Welcome to February!
We've enjoyed a very busy January as 2013 unfolded. As in years' past, the holidays were a crazy busy time for our production and tours, and 2012 was no different.But  2013 doesn't seem to be giving us a break!  Before we know it, January is gone and it is suddenly February! Where does the time go?
At least it means that we'll only be a few months away from starting construction on our new building.
Catoctin Wins Gold in San Francisco

The Good Food Awards awarded Catoctin Creek  Roundstone Rye a gold seal in their 2013 spirits category, one of 182 finalists across nine industries, from 31 states, chosen from among 1,366 entries.  Awards were presented by Alice Waters, famed chef of Chez Pannise and prominent activist for the local food movement.
"The Good Food Awards celebrate the kind of food we all want to eat: tasty, authentic and responsibly produced," said Christina Skonberg, operations manager for the Good Food Awards.  "For a long time, certifications for responsible food production and awards for superior taste have remained distinct—one honors social and environmental responsibility, while the other celebrates flavor. The Good Food Awards recognize that truly good food—the kind that brings people together and builds strong, healthy communities—contains all of these ingredients."
Gold Seals were given to producers whose winning products are either certified eco-ganic themselves or are 100% comprised of certified eco-ganic ingredients.  Accepting the award in person, at San Francisco's historic Ferry Building, were Scott and Becky Harris, the founders of Catoctin Creek.
New Potstill — Under Construction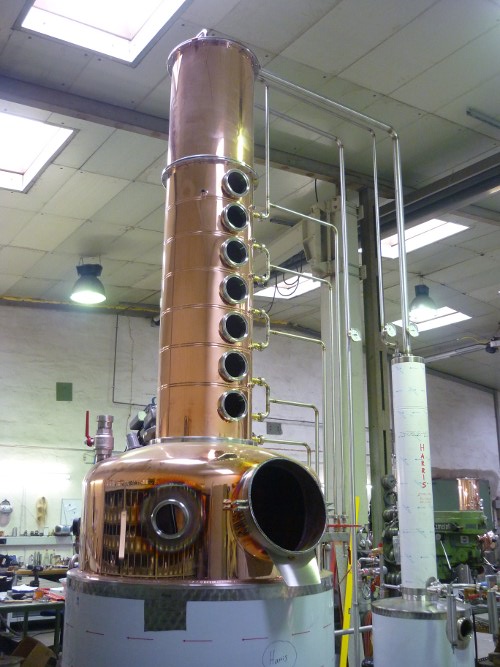 Our new 1200 liter potstill is presently under construction at Kothe Destillationstechnik in Eislingen, Germany.  She's a beauty!  The same design as our existing Kothe still, the new still offers increased capacity, allowing us to quadruple our production at the distillery.
We'll be posting lots of updates on Facebook as we describe the journey of this gorgeous copper device from it's birthplace in Germany, across the ocean, to her final delivery and installation in Purcellville.
Once she's up and running, of course, you'll be able to come by the distillery for tours and tastings and see her in person!
Now Available in Pennsylvania
Catoctin Creek® is now available in Pennsylvania through the state-run Liquor Control Board.  The following spirits are now registered in the special order catalog, and are now available to restaurants, bars and consumers alike:
Catoctin Creek eco-ganic Roundstone Rye
Catoctin Creek eco-ganic Mosby's Spirit
Catoctin Creek eco-ganic Watershed Gin
Catoctin Creek eco-ganic Roundstone Rye CASK PROOF (limited release)
Catoctin Creek 1757 Virginia Brandy (limited release)
Customers interested in ordering Catoctin Creek spirits may consult the Pennsylvania Liquor Control Board web site at http://www.lcb.state.pa.us, or the Catoctin Creek Pennsylvania ordering page at http://catoctincreek.com/wheretobuy-pa.
For restaurants, please contact This email address is being protected from spambots. You need JavaScript enabled to view it. for ordering information.
Brandy — Now Available in ABC Stores!


There are several cases of our two most popular brandies, Pearousia pear brandy and the 1757 Virginia Brandy now in the Virginia ABC special order system. This means that consumers and restaurants alike may order these spirits at their neighborhood ABC store.
If you have a well-informed ABC clerk, this should be as simple as giving him or her the special ordering codes, which are 952556 (Pearousia) and 52321 (1757 Virginia Brandy). If you have any trouble, please get the name of your clerk, and the store address. You can then give us a call, and we will help you place the order with that store. (Sadly, special orders are not always easily handled at the ABC stores, but persistence pays off in the long run.)
You should be able to order as little as a single bottle, or multiples, if you wish. Pearousia is $42.30 at Virginia ABC, and is made from locally sourced Bartlett and Bosc pears. 1757 is $49.80 and is made from locally sourced Seyval blanc and Chambourcin grapes. (Our version of Cognac, made in Virginia!)
Get them while they last!
Upcoming Events
There are a variety of great events planned for the month that should prove entertaining and educational:
February 2 - Bottling Workshop - Watershed Gin - RSVP is required, please check here for details. - FULL
February 7 - HINGE Launch Party - Join us for a huge spirits event as HINGE launches with a massive party.
February 9 - Bottling Workshop - Roundstone Rye - RSVP is required, please check here for details.
February 16 - Loudoun Grown Expo - Once again, we will be pouring tastings and schmoozing the public at the historic Bush Tabernacle in Purcellville.
For the full list of events, check our events page.
Cocktail of the Month – The Raven
This cocktail was designed by Mark Addison, and inspired by our favorite Baltimore team making it to Superbowl XLVII. GO RAVENS!!!

The Raven is a dark and mysterious cocktail that I've adapted from other recipes for the Baltimore Ravens. It calls for Catoctin Creek Watershed Gin, which is distilled in the first legal distillery in Loudoun County since before prohibition by Becky and Scott Harris. Located in the Chesapeake Bay area, this gin perfectly ties in to the location-based theme and in name pays respect to the Chesapeake Bay watershed. It is distilled from eco-ganic rye graine with a secret recipe of eco-ganic herbs and spices.
1 oz Catoctin Creek Watershed Gin
½ oz lemon juice
½ oz lime juice
2 oz cranberry juice cocktail
½ oz Blue Curacao
½ oz Chambord
crushed ice
Pour the gin, and blue curacao into a cocktail shaker filled with ice. Strain into a highball glass filled with fresh ice. Slowly pour the Chambord over the back of a bar spoon so it floats on top.
Courtesy Mark Addison and used with permission.
See this cocktail and over eighty others on our cocktails page.
In Closing...
As always, there are lots of fun and information on our Facebook and Twitter pages, where you can stay up to date with the daily activities at the distillery.  We do tours and tastings every day except Sunday, so stop by and see us sometime!
Remember, "Think Global, Drink LOCAL!"SM
Cheers!
Scott & Becky