Welcome to August!  We are moving to Main Street!!
It is finally here!  August 2013!  As we planned, we will be moving up to Main Street this month!  This coming weekend, we will disassemble the operation at Richardson Lane, leaving that site forever, and move our equipment and inventory up to the charming downtown section of Main Street.
We hope you've been stopping by to see the progress each week.  There has certainly been a lot going on, and this is the "mad rush" to the finish that is common with these large construction projects.
Overall, we are very happy.  Mullally Construction Company, W.A. Brown and Associates, and PRESERVE/scapes Consulting have been excellent partners in realizing our vision of a modern microdistillery in a historically important building.  We strove to build a modern and energy efficient factory and tasting room, while respecting, maintaining, and preserving the history of the building we purchased. 
We hope you like it when you come to see us! 
Soft opening will be August 9th-ish... just poke your head in... if we're there, we're open!
Grand Opening Weekend Announced!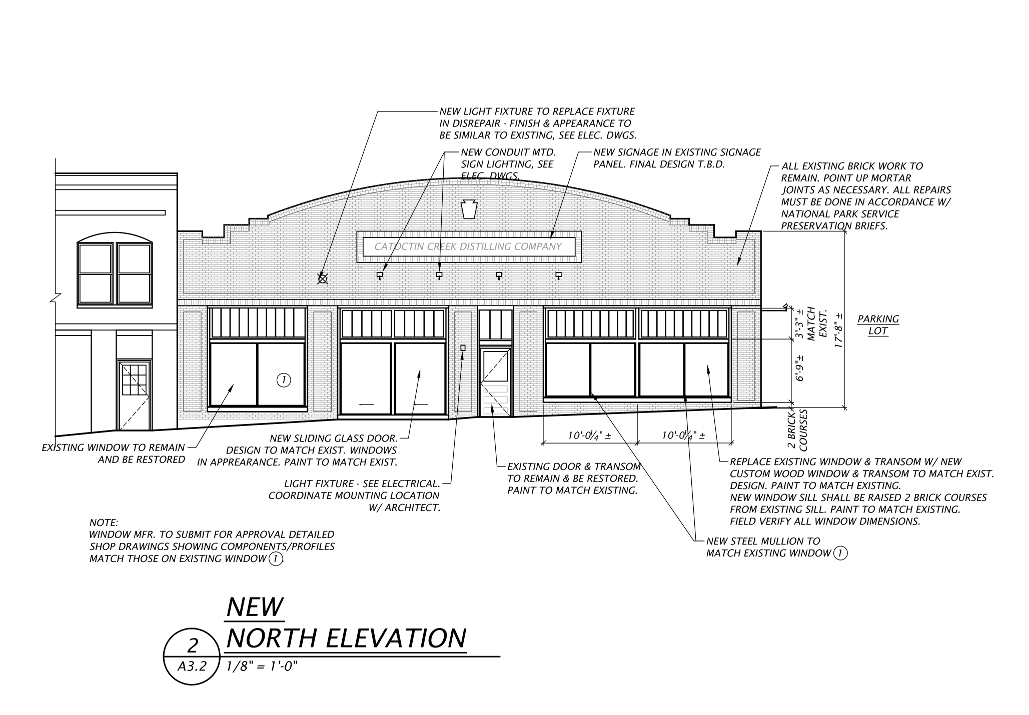 Catoctin Creek will celebrate the GRAND OPENING of the new distillery on Main Street in Old Town Purcellville!  Come and join us all weekend beginning Friday, August 23rd to Sunday, August 25th.  We'll be doing tastings, tours, and you'll get a chance to meet the owners and learn about the massive renovation project in the historic Case Building.
We'll have book signings, civil war re-enactors, and live music by Andrew McKnight and Beyond Borders on Saturday!  Plus all Catoctin Creek store merchandise will be 15% off for the weekend!
You DO NOT want to miss this incredible weekend!
EPICURIENCE Weekend!
Epicurience Virginia is a celebration of the amazing food, wine, and spirits that Loudoun County has to offer.  In partnership with Saveur magazine and Visit Loudoun, Catoctin Creek is participating in FOUR unique events during Labor Day weekend.  Be sure to join us for one of these great events!
Herb Garden Simple Syrups - Easy to Make Cocktail Syrups
Cocktail culture is back!  Are you ready? 
The simple cocktail is a mixture of spirits, sugar, fruit and water.  We'll spice it up with herbs from our own herb garden. Learn how to make simple syrups from lavender, basil, rosemary, citrus peel, and more.  We'll show you how these flavored syrups combine with spirits to make beautiful cocktails and truly one-of-a-kind non-alcoholic sodas. 
Workshop will be led by Emily Landsman, brand ambassador for Catoctin Creek.
Click here to for more information and to register.
Roaring Twenties Party at Oatlands
Join us for a very special Roaring Twenties Party at Oatlands Plantation in Leesburg, Virginia!  Bring out your best 1920's attire, and enjoy sipping vintage cocktails made with Loudoun County's own Catoctin Creek spirits!  There will be food, singing, dancing, cigars, and more!  All under the beautiful shadow of the historic Oatlands plantation.  Take an intimate stroll through the carefully manicured gardens with your partner, or smoke cigars with the guys by the patio.  This will be an evening never to forget!
And don't worry... in case the "fuzz" shows up, this party is legit!
Click here to for more information and to register.
Distilling Workshop - How Whisky is Made
From the foggy glens of Scotland to the backwoods of Kentucky, whiskey has been distilled for centuries.  Learn how with a private workshop with Scott Harris, founder and distiller of Catoctin Creek distillery.  Using processes that mimic 18th century methods, you'll learn how we mash, ferment, distill, barrel-age, and bottle our spirits, with live demonstrations, including a real distillation. 
We will also perform a sensory evaluation of various spirits during the workshop.  Catering provided by Magnolia's.
Click here to for more information and to register.
Private Behind the Scenes Tour at Catoctin Creek
Ever wonder what really happens at a distillery? 
How hard was it to start Loudoun's first legal distillery since Prohibition? 
What's it like to renovate a 100 year old building and build a distillery in it? 
How long does it take to age brandy? 
If you have questions like these, you'll enjoy the private tour with Catoctin Creek founder and distiller, Scott Harris, as he guides you through a private behind the scenes tour of their newly renovated distillery.  Limited to 25 people, this will be an exclusive private tour unlike the typical weekly tours.
The tour will conclude with a sampling of the distillery's spirits.
Click here to for more information and to register.
Upcoming Events
As you can see, there are a variety of great events planned for the month that should prove entertaining and educational.  Here is the full list:
For the full list of events, check our events page.
Cocktail of the Month – The Grey Ghost Cocktail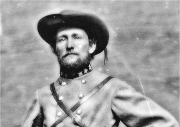 This name of this recipe is a dual nod to Colonel John S. Mosby (the Gray Ghost) and its use of Citrus Earl Grey tea. Perfect for Loudoun County's Colonial and Civil War history.
2 oz Catoctin Creek Mosby's Spirit (Steeped with Earl Grey Tea, see below)
2 dashes Angostura or Peychauds bitters
1 oz Cointreau liqueur
1 oz Rose's lime juice
1 Maraschino cherry
Mix Mosby's Spirit, Bitters, Cointreau and Lime Juice with Ice in a Shaker. Strain into rocks glass over Ice Cubes. Garnish with a cherry and start making your second round.
To Infuse the Mosby's Spirit
The key in this recipe is the advance preparation of the Mosby's Spirit. Take one bottle and empty it into a bowl. Add seven Earl Grey Tea Bags and steep for 30 minutes. When removing the tea bags, do not pinch or squeeze them to get any liquid out, as they will render your brew bitter with tannins. Refill your bottle with a funnel and you are good to go.
Courtesy Arun Iyer and used with permission.
See this cocktail and over one hundred more on our cocktails page.
In Closing...
As always, there are lots of fun and information on our Facebook and Twitter pages, where you can stay up to date with the daily activities at the distillery. We do tours and tastings every day except Sunday, so stop by and see us sometime!
Remember, "Think Global, Drink LOCAL!"SM
Cheers!
Scott & Becky