Welcome to October!

September was a big, big month for us!  In September, we received some HUGE press from Sunday's"Travel" section of the Washington Post.  Lavanya Ramanathan wrote a story on what Catoctin Creek is really about:  hand-made craft rye whisky... the real deal:
Here we see how rye is made: not in giant, impersonal vats somewhere in Indiana, but a few dozen miles from home. Scott explains that the first step to rye, in fact, is making something not unlike a hefeweizen — a primordial stew teeming with grains that must ferment to become alcohol. The distillation happens later, in a fancy copper still, which separates the alcohol from the grainy pulp, known as mash, with heat that turns it to gas. Upon cooling, the gas is returned to its liquid form, which is now that brash stuff known as white whiskey. To become the Roundstone rye that has won the company kudos, it goes into oak barrels to age for at least two years.

As the tour wraps up, I spy Becky, a onetime chemical engineer who's now chief distiller at Catoctin Creek. She's dragging bins and heavy bags of grains across the floor as if engaged in some kind of demented CrossFit exercise. She stops to check a computer, then resumes the manual labor on her factory floor.

That's how rye is made, I think.

And I'll be thinking of it the next time I order a rye old-fashioned.
You can read the entire story, here. It's fantastic!!
First Local, eco-ganic Rye
Earlier in the month, we achieved an important company milestone:  our first local, eco-ganic rye!  Since we started this company, we have sought to produce with local, eco-ganic rye, but sadly, there was never enough in Loudoun (or even Virginia) to supply our needs.  There was always lots of rye, but having it eco-ganically produced was difficult.  Further, having it milled eco-ganically was also difficult.
Until now.
Recent upstart, Three Monkeys Farm, who farms the land at Morven Park in Leesburg, harvested their first crop of eco-ganic rye this month, and we produced our first batch of whisky using this local rye!  We still have a long way to go to scale this up to a full-time rye for our uses, but the first batch was a huge success, and we look forward to moving more into the production schedule soon!
Just as important, Locke's Mill in Berryville, Virginia, is now milling grain for us!  Locke's Mill is a meticulously restored 1800's era grain mill, which is still completely powered by water wheel.  We are thrilled to be using grain that was grown within 10 miles of the distillery, in a mill located nearly as close.  Truly, we are seeing our efforts to rebuild an agricultural economy in Western Loudoun beginning to flourish, ever so slowly.
Who knows what the future will bring, but I, for one, can't wait to taste that local, eco-ganic rye whisky in a few years! 
Below are some photos of the new rye, the farm, and the millstone at Locke's Mill.  Click on the photos for larger images.
Cask Proof Release!
It's that time of year again! Our newest expression of Roundstone Rye CASK PROOF will be released this month. We're releasing Roundstone Rye CASK PROOF "Brandy Finished Rye" on Oct. 19 for VIP members, and Nov. 1 for the general public.
This expression of cask proof is very special. At 59.8% ABV (119.6 proof), it is a big, huge rye! Our classic Roundstone Rye, using eco-ganic 100% rye, and as always, MADE BY US, it was aged first in Minnesota white oak and then finished in a red wine Bordeaux barrel that previously aged our 1757 Virginia Brandy. This expression, batch B14E3, is dark, almost reddish in color, with a deep woody, caramel taste with that characteristic rye snap, and a noticeably fruity nose from the presence of the grape. Truly spectacular, and only 283 bottles of this one were produced. It. Will. Not. Last!!!
Info on VIP Club, here: http://catoctincreekdistilling.com/vip-club
James Beard Dinner at Trummer's On Main - October 9th!

Last month, Catoctin Creek was beyond thrilled to be included with a small list of Virginia's rising star chefs at the James Beard Dinner in New York City.  The event was a resounding success, so everybody decided it was time to do it again... but this time, back home in Virginia!
Catoctin Creek and six phenomenal Virginia chefs will gather again on October 9th at Trummer's on Main to present this epic collaboration and showcase of Virginia agricultural cuisine for local diners and imbibers.
A rare opportunity to experience spirits and cuisine from Virginia's most talented young chefs and distillers in one evening, tickets for this exciting cocktail reception and six-course dinner are now available. Tickets must be purchased in advance, here.  This is a small venue dinner, so purchase your tickets now, before it's too late!
Meet the Maker Night at 2941 Restaurant
On October 15th, from 6:30 - 8:30pm, join Scott Harris, as he is welcomed by Executive Chef Bertrand Chemel and the entire team at 2941 Restaurant.
Scott Harris, owner of award-winning Catoctin Creek Distillery located in the heart of historic Purcellville, Virginia,  will participate in the first 'Made in Virginia: Meet the Maker' event - an exclusive evening taking place at 2941 on Wednesday, October 15th from 6:30pm to 8:30pm. Priced at $45pp, attendees will have the opportunity to personally meet and chat with Scott Harris, and enjoy a private neat tasting featuring some of Catoctin Creek Distillery's signature spirits including Roundstone Rye, Watershed Gin, and Mosby's Spirit, to highlight a few. Harris will also share the history of the Virginia-based distillery and details on the art of making eco-ganic handcrafted spirits.
In addition, 2941's resident Beverage Director Jonathan Schuyler will be preparing and offering cocktail connoisseurs a special cocktail flight tasting showcasing Catoctin Creek spirits. Throughout the evening, guests will also enjoy an assortment of sweet and savory small bites prepared by Executive Chef Bertrand Chemel and Pastry Chef Caitlin Dysart. Following the event, guests will be sent home with special takeaway treats from both 2941 and Catoctin Creek Distillery.
For additional information regarding the event, please call 703-270-1500. To purchase tickets, please visit https://www.giftrocker.com/secure/Order/?h=b1ebed78.
100 Year Old Whiskey Tasting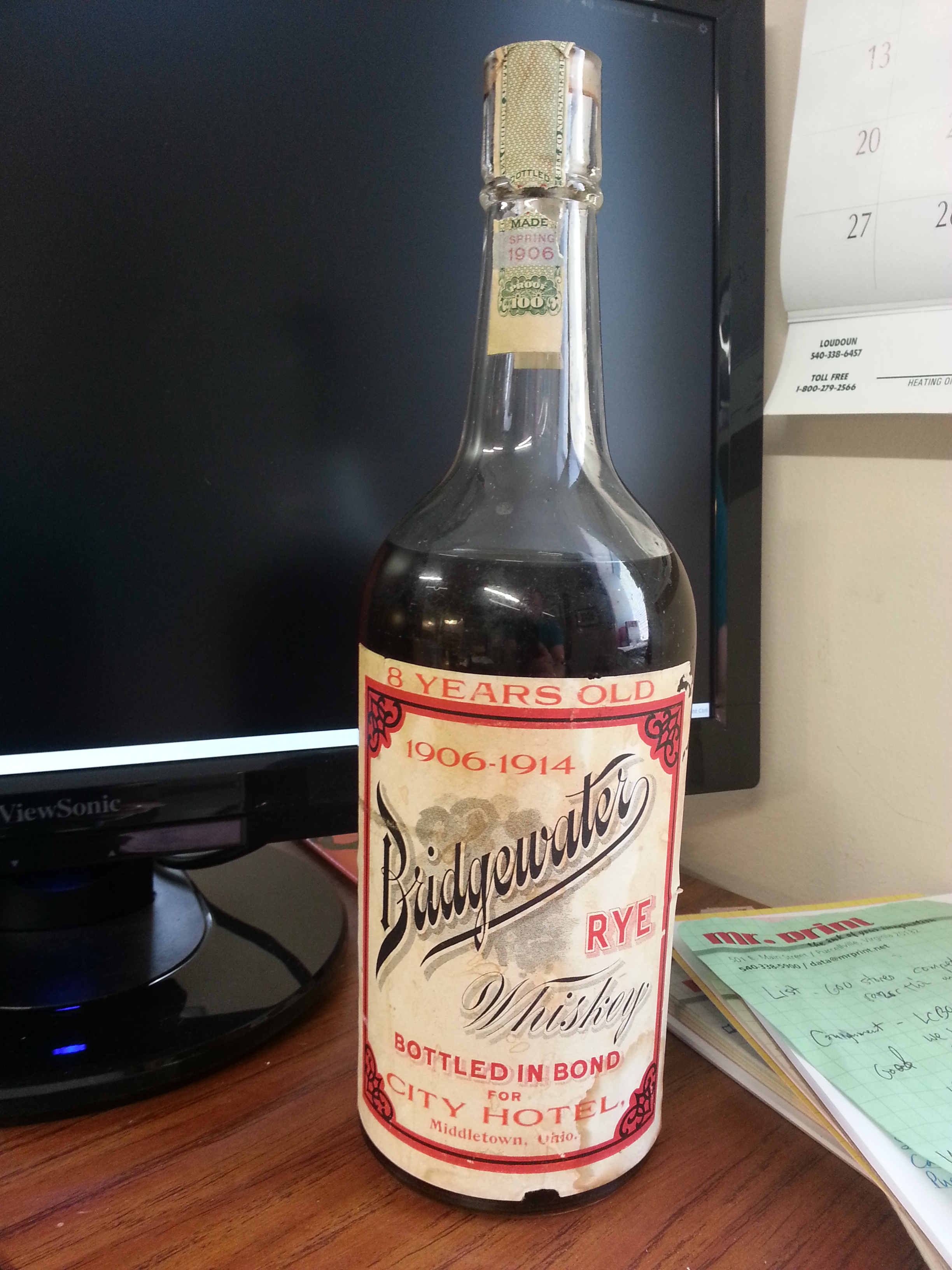 Before Scotch, before bourbon, there was rye whiskey! Many people don't realize the important history that rye whiskey played in the United States. Before the Revolutionary War, rum was the predominant spirit of the colonies, but after the revolution, the British cut the colonists from sources of sugar cane. America had to look internally for a source for distilled spirits, and rye grain was abundant and easily available. George Washington distilled rye whiskey at Mount Vernon, and the Whiskey Rebellion in western Pennsylvania was fought over rye whiskey. Bourbon and Scotch came much, much later. Rye was king!
We love this history, so we are thrilled to have obtained exactly one bottle of rye whiskey that was bottled in 1914. An anonymous donor has requested that we open and taste the contents of this bottle of whiskey that has been in his family since before Prohibition. The whiskey is called "Bridgewater Rye Whiskey", distilled in 1906 at the Eagle Distillery in Stanley, KY, and bottled in bond in 1914, exactly 100 years ago! This 8 year old spirit is still sealed with its tax stamp. We'll open it and share tastes of this one of a kind spirit this one night only.
You will never have an event like this again. Do not miss this!
There is no fee to participate, but you must be a VIP member to receive an invitation to this event. For more details on the VIP club, see the VIP Club section, above.
Date:
Sunday, October 19
Time:
7:00pm
Where:
Catoctin Creek Distillery
120 W. Main St
Purcellville, VA
Price:
Free, for VIP members only

Eagle Distillery, Stanley, Kentucky
Upcoming Events
There are a variety of great events planned for the month that should prove entertaining and educational:
For the full list of events, check our events page.
Cocktail of the Month – Boulevardier

The Boulevardier was invented during Prohibition, when an out-of-work American barman, named Harry McElhone, set up Harry's New York Bar in Paris. Similar to a Negroni, this cocktail substitutes whisky for gin, and in our version, we substitute Aperol for Campari, giving the cocktail a lighter, candied texture.
1¼ oz Catoctin Creek Roundstone Rye "92 Proof"
1 oz Aperol (or Campari, if you wish)
1 oz Carpano sweet vermouth
Orange twist for garnish
Combine all ingredients on ice, stir and strain into a cocktail glass. Garnish with a twist of orange.
See this cocktail and hundreds more on our cocktails page.
In Closing...
As always, there are lots of fun and information on our Facebook and Twitter pages, where you can stay up to date with the daily activities at the distillery. We do tours and tastings every day, so stop by and see us sometime!
Cheers!
Scott & Becky