Welcome to May!  Construction continues...
April saw the first full month of construction of our new facility at 120 W. Main St. in Purcellville.  We began construction on April 1st (no foolin'!), and immediately began demolition of the drywall within the old building.  We had quite a few surprises in store:  First, we found an old basement, which we bravely explored, and learned that the building was once heated by a coal-fired steam furnace.  What will become of this basement, we've yet to determine.  Second, when we pulled down the drywall, we discovered a beautiful set of four antique windows with original glass, and two old doors, which were in fantastic shape.  These will now feature prominently in the wall between the distillery and the tasting room.
After clearing out all the drywall, we began working in several areas:  The floor was cut apart so we could lay in new plumbing.  We're putting in cast iron sewer pipes, which will be durable and last for generations to come, and proudly made in the USA.  Major truss repair and replacement was done, removing broken trusses and load bearing walls in the tasting room, and replacing them with steel I-beam trusses to support the weight of the roof.  The tasting room now looks so much larger!  Finally, there were (and still are) many places where the brick work was failing, and needed not only cosmetic, but also structural repair.  In the worst of these cases, steel reinforcing beams were installed within the wall to provide needed support, but the original brick and mortar was carefully saved to ensure the original look was maintained.  (In other words, we didn't want it to look like a patch.)
Looking ahead, we have to finish the plumbing, lay in the electrical, strengthen the remaining trusses, build out the tasting room, and get the equipment and fixtures installed, including a solar array on the roof.  Lots of work to do in the two months we have left in the construction schedule!  We hope to be in our new home sometime in June!
Here are a few photos from the first month of construction.  Stay tuned to Facebook and Twitter for progress reports as we begin this journey.  We will post many photos and status updates along the way...
New pot still is here!
Earlier in April, we took delivery of our 300 gallon pot still, which will become a prominent feature in our new distillery, and will allow a major ramp-up in our production.  The pot still traveled over the sea from Germany, and is now safely tucked away in a barn in Loudoun County.  We'll fetch it once we're a little closer to opening day.
If you'd like to see a video of Scott unloading the still from the truck, enjoy the following.  It is quite a nerve-racking experience to remove a rather pricey piece of factory equipment using a forklift on a gravel driveway!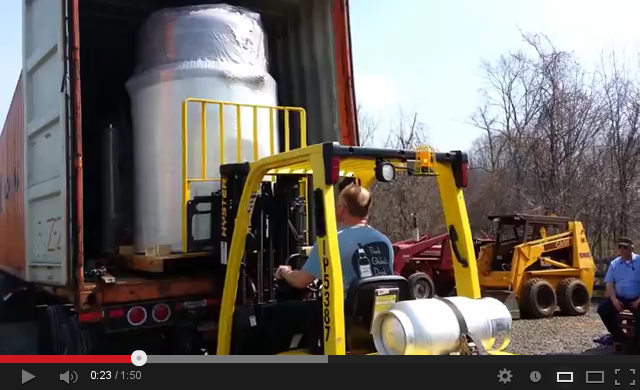 April was "Press" month for Catoctin Creek
We're not sure why, but sometimes, these things happen in waves.  Catoctin Creek was mention four separate times in the mainstream press in April!  For those of you who subscribe to the Washington Post, we were highlighted in the weekend magazine's column, "Closer Inspection: From grain to glass".  Kris Coronado did a tight little piece describing the journey of a bottle of whisky from its inception as a piece of grain, to it's final bottling.
Northern Virginia Magazine did a feature story on our construction efforts, focusing specifically on our eco-friendly efforts to build a "green" distillery.  Dieter Meyer, our architect, was quoted saying, "Re-purposing one typical existing downtown building is the equivalent of recycling 1.34 million aluminum cans.  A very strong case has been made, that the greenest building is the one that already exists."
Valley Homes and Style wrote a piece called "Gentlemen's Moonshine", in which they covered the distillery from a tourist perspective, and wrote some tasting notes about the distillery's line-up of spirits.
Finally, Modern Luxury DC wrote a story on the life of a barrel, from oak forest in Minnesota, through the distillery, to Art Drauglis, who makes the Langdon Wood maple syrup, to Three Stars Brewery, and finally to Smoke and Barrel, where they use the wood for charcoal in their smokers.
That's some great press, and we're grateful for all of it!
Upcoming Events
There are a variety of great events planned for the month that should prove entertaining and educational:
For the full list of events, check our events page.
Cocktail of the Month – The Highly Inappropriate Bartender
From Suttree Stan, at BarNotes:
Made this in honor (or spite) of the bar "guest" that named me a "highly inappropriate bartender". I really love the Cacoctin Creek Rye, aged about 2 years, from Northern Virginia, eco-ganic Rye in 80 proof & 116 proof cask proof, strong iodine & slight anise tones.
2 oz Catoctin Creek Cask Proof Rye (116 Proof)
¾ oz Averna Amaro
½ oz Sweet Vermouth
2 dash Peychaud Bitters
1 orange twist
Stir with ice and add the orange. Enjoy!
Courtesy Suttree Stan of BarNotes and used with permission.
See this cocktail and over one hundred more on our cocktails page.
In Closing...
As always, there are lots of fun and information on our Facebook and Twitter pages, where you can stay up to date with the daily activities at the distillery. We do tours and tastings every day except Sunday, so stop by and see us sometime!
Remember, "Think Global, Drink LOCAL!"SM
Cheers!
Scott & Becky