Latest News
THE DISTILLERY STORE IS OPEN! HUZZAH!
Yes, this morning, we opened the doors to the distillery as a newly licensed retail store. Officially operating as a Virginia ABC store, we can now sell bottles of our spirits to the general public.
Can't find your Catoctin Creek spirits at the local ABC store? Come on by! Want a tour and maybe pick up a bottle or two? Come on by! Last minute gift needed for a friend? Come on by! (You get the idea...)
We're celebrating the new store opening with a Fourth of July weekend grand opening party. From opening until 4pm each day (Friday, Saturday and Sunday), we'll be doing tours. We'll also be highlighting some of our very favorite local bands with live music. Oh, and there might be a large German man in Lederhosen selling bratwursts.
Seriously, it's going to be a heck of a good weekend. So stop by!
Scott and Becky Selected as 2011 Northern Virginia Innovators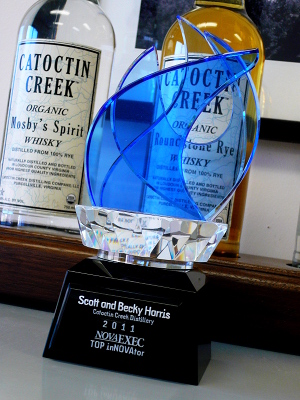 It was our great honor last Wednesday to be selected as one of the three finalists in the NOVAEXEC Magazine 2011 Northern Virginia Innovators. The awards ceremony was held by the Fairfax County Chamber of Commerce in conjunction with the Loudoun Time Mirror and NOVAEXEC Magazine.
We felt pretty humbled to be selected along with Volkswagen and Guernsey Office Products, two companies that have been around much longer than we have!
"NOVAEXEC sees innovation as creation," says the magazine article highlighting the award, "Scott and Becky Harris followed in the footsteps of one of Northern Virginia's most famous innovators, George Washington, when they took up his past-time of producing spirits."
Honestly, we're just following our dream, and so happy to be doing it in Northern Virginia!
Events in July
We have several really neat events this month. Be sure to pick one or two and join us!
July 1-3 - Grand Opening Weekend - Come join us with tours, bottle sales, a book signing, live music and bratwursts! (Note, we will be closed on the 4th of July to be with family and friends.)
July 3 - Pig Roast and Catoctin Creek Cocktails at the Passenger - The Passenger is THE spot for DC cocktails. For the 4th of July weekend, they're roasting a whole pig and serving up some of our cocktails, pie, and beer from DC Brau!
July 9 - Tasting at The Perfect Pour - Come join us in Elkridge, Maryland for a tasting of all of our spirits.
For the full list of events, check our events page.  Stay tuned as we add more events throughout the month (like a tasting at Dickson Wine Bar in DC, and the ever popular bottling workshops).
Cocktail for Summer - The Summer Bliss
What says summer better than watermelon, pineapple, and cool refreshing punch? This one comes from Huppahs.com, and highlights our Watershed Gin. Deeeee-lish!
4-5 lb seedless watermelon
1 bottle Catoctin Creek eco-ganic Watershed Gin
18 oz pineapple juice
18 oz lemon juice
18 oz simple syrup
18 oz lemon/lime seltzer
Cut the watermelon in half and scoop out the fruit into very large bowl. Use an immersion blender to liquidate the fruit. Strain through a cheese cloth. You will end up with about 42 oz of watermelon juice. Combine all the ingredients. Add the seltzer and ice to the punch bowl just before serving.
See this cocktail and over fifty more on our cocktails page.
Courtesy of Huppahs.com. Garland courtesy of FiftyFlowers.com. Photo courtesy Jason Weil and used with permission.
In Closing...
As always, there are lots of fun and information on our Facebook and Twitter pages, where you can stay up to date with the daily activities at the distillery.  Tours are always free, so stop by and see us sometime!
Remember, "Think Global, Drink LOCAL!"SM
Cheers!
Scott & Becky