Coming in November!
Apple Brandy is back!
Catoctin Creek "Quarter Branch" Apple Brandy is back in stock!  Made from heritage apples in collaboration with Blue Bee Cidery in Richmond, Virginia, this apple brandy is perhaps my favorite of the fruit brandies we offer.  It is now in stock in the tasting room and select locations throughout the DC area.  If you're a restaurant in Virginia, please feel free to contact us to get it in your bar or on your menu.  (We deliver!)  375mL, 80 proof, $29.19.
IT'S HERE!  Adroit / Catoctin Malt Whisky Collaboration!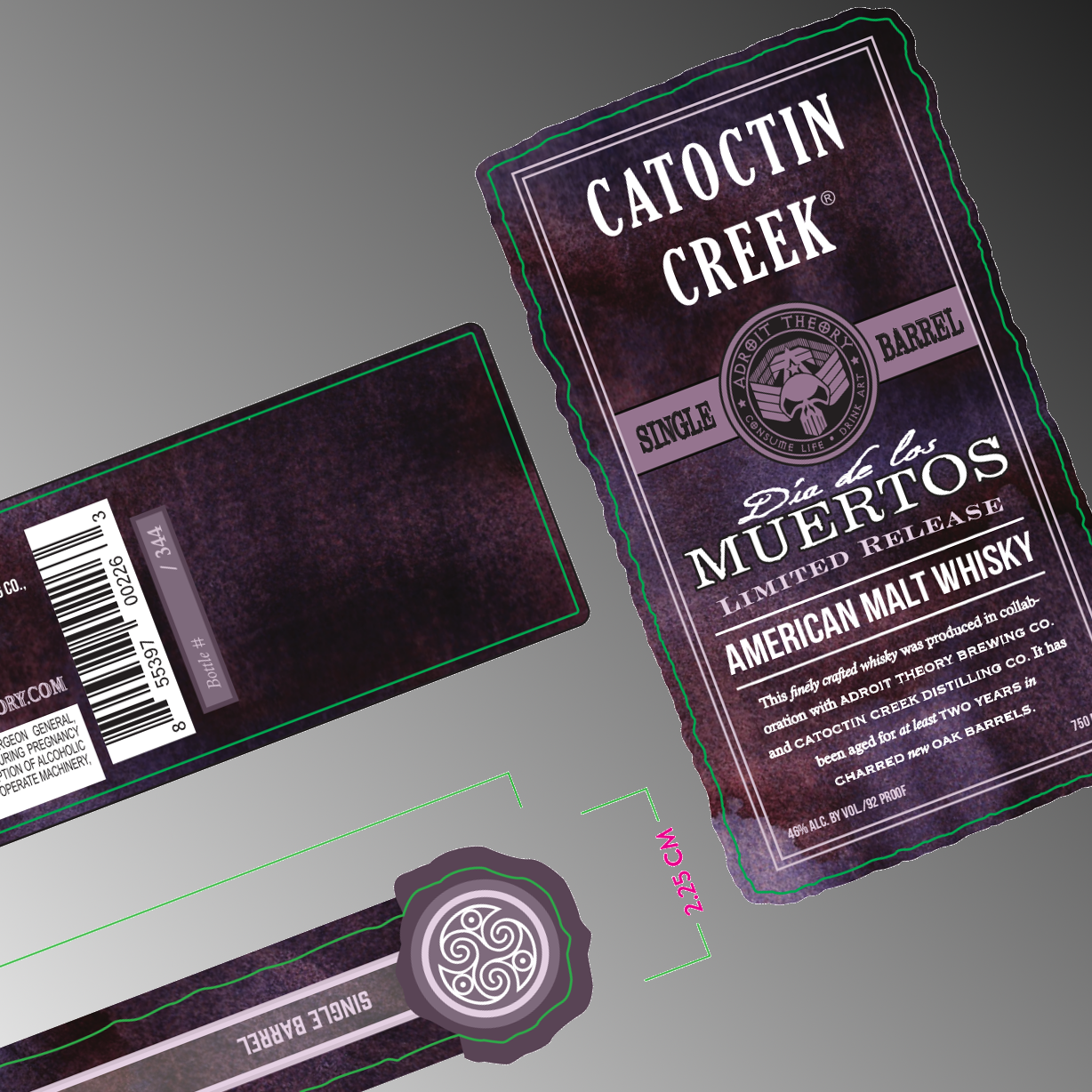 Our second beer collaboration, this one with Adroit Theory Brewing Company and called Día de los Muertos, will be available on November 12 (November 2 for VIP members).  Bottles come in individual cedar boxes, hand numbered and signed by the distiller and brewer on opening day.   These are beautifully packaged, and will make an excellent gift for the holidays.  
$119.99 per bottle, 750 mL, 92 proof.
Warren Rojas does the full backstory at Washington City Paper:
Next to scrutinize the end result was Becky Harris, Scott's wife and Catoctin Creek's chief distiller. As she siphoned the resulting whiskey from its cask, she couldn't help gush about the collaboration. "I've been waiting for this one for two years," she says as she pulls a dram of the experimental beverage they dubbed "Día de los Muertos" American Malt Whisky.

"The name of the original beer was Día de los Muertos. So it made sense to name the whiskey the same," [Mark] Osborne [founder of Adroit Theory Brewing Company] says of the ominous moniker he came up with.

The whiskey smells of roasted malt and shines as brightly as copper. It's less forceful on the palate than traditional rye whiskey, but still has a rich mouthfeel, conveying definitive hoppiness balanced by caramel notes.
You can read the full story, here.
Distiller Dinner Series at Brookland's Finest in DC
Each Tuesday in the month of November, Chef Shannon Troncoso of Brookland's Finest will feature Catoctin Creek cocktails alongside an excellent three course menu. Our brand ambassadors will be on hand to tell you all about the distillery and the special spirits during each dinner.  Seating anytime during the normal dinnertime hours, no special reservation required.  Only $35 for a three course menu with drinks!
The Rogue Gentlemen from Richmond take over our Tasting Room!
November 19th, from noon til about 4pm!  Join the crew from the Rogue Gentlemen, a fantastic bar in Richmond, VA, as they descend on the distillery, bringing with them some amazing cocktails of their own.  Scott and Becky will be on hand along with Chef/Owner Johnny Maher.  Taste some of the best of what Richmond has to offer, and learn why the food and drink scene in Richmond is booming!
We'll have drink specials all day, as well as tours, tastings and bottle sales.  Come on by, Saturday, November 19th!
Enjoy Free Tastings at Virginia ABC Stores!
​Stock up for the holidays! ​Virginia Ambassador, John Shope, will be hosting tastings at your local ABC stores on Fridays at these selected locations. Try a sample of award winning Virginia made spirits as well as take home some buttons, stickers, brochures and other cool giveaways.
Pouring Roundstone Rye 80 Proof, Roundstone Rye "Distiller's Reserve" 92 Proof and Watershed Gin on:
​11/4/2016 - Store 260 from 3-5 p.m. located at 6284 Arlington Boulevard, Falls Church 22044
11/4/2016 - Store 212 from 6-8 p.m. located at 167 Hillwood Avenue, Falls Church 22046-2913
11/25/2016 (BLACK FRIDAY) - Store 231 from 12-2 p.m. located at 436 East Maple Avenue, Vienna 22180-4721
11/25/2016 (BLACK FRIDAY) - Store 388 from 3-5 p.m. located at 8150 Leesburg Pike Suite 110, Vienna 22182
11/25/2016 (BLACK FRIDAY) - Store 219 from 6-8 p.m. located at 8413 Old Courthouse Road, Vienna 22182
Upcoming Events
Here is the full list of events planned at the distillery and in the area this month and through summer.  Many events are free, so be sure to join us for something fun:
For the full list of events, and to get your reservations to these, check our events page.
Cocktail of the Month – Caprese
A great "sophisto' alternative for Bloody Mary fans!
​​6 cherry tomatoes​, sliced​
4 fresh basil leaves​, broken up
​ ​Cracked black pepper​
ICE
¾ oz distilled white vinegar
¼ oz simple syrup
​​2 oz ​Catoctin Creek ​Mosby's Spirit
​​ ​4 drops of Balsamic Vinegar
​Glass Type: Martini Glass
Garnish: Fresh Mozzerella, basil and a tomato slice skewered on a stick
Method: Muddle tomatoes, basil and black pepper in a shaker until fully crushed and infused together, add vinegar, simple syrup and Mosby's then shake vigorously. Strain into a chilled Martini glass, add drops of balsamic vinegar on top, crack pepper on surface of drink, garnish with caprese stick then serve.
Recipe and photo courtesy John Shope, and used with permission.
See this cocktail and hundreds more on our cocktails page.
In Closing...
As always, there are lots of fun and information on our Instagram, Facebook and Twitter pages, where you can stay up to date with the daily activities at the distillery. We are open every Tuesday through Sunday for tastings and bottle purchases, so stop by and see us sometime!
Cheers!
Scott & Becky