Welcome to October!
Fall is here, and we start the blessed season of whisky!  Curl up by the fire as the days get colder and enjoy a warming glass of Roundstone Rye!  
For as you know... Winter is coming!  But so too are some great Catoctin Creek releases... 
Coming in October and November!
Rabble Rouser is back!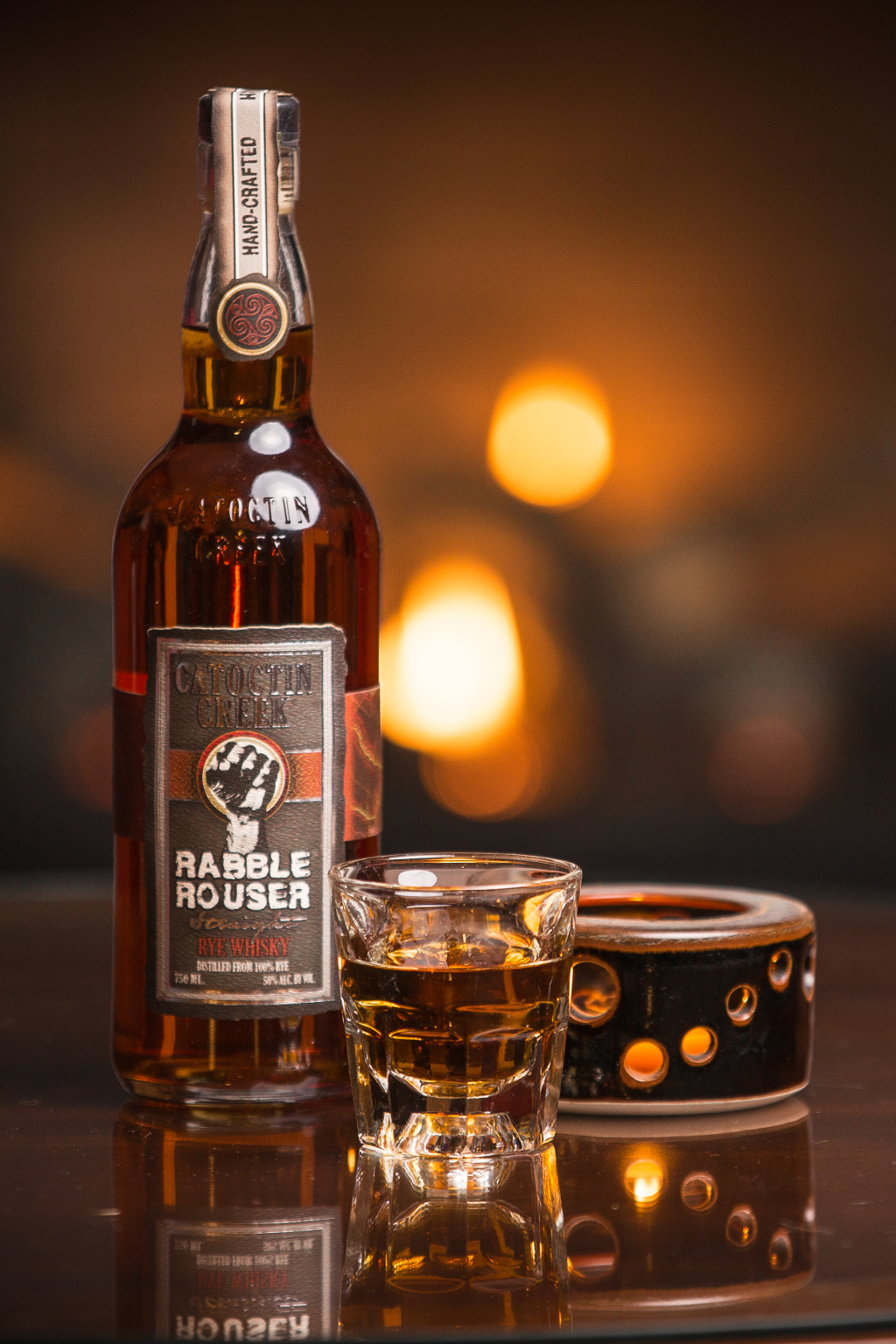 rab•ble-rous•er
noun
a person who speaks with the intention of inflaming the emotions of a crowd of people, typically for political reasons.
synonyms: agitator, troublemaker, instigator
The Rabble Rouser whisky is aged for four years, making it among the oldest craft whiskey in the United States presently, and twice the legal age requirement for "straight rye whiskey." It will be available on October 29.
(For VIP members, we will take PRE-ORDERS and save your bottles for pickup at your convenience after October 29.)  
If you didn't get batch one, don't delay on batch two!  Last year, batch one sold out in one hour in our tasting room!
More info, here.
Adroit / Catoctin Malt Whisky Collaboration!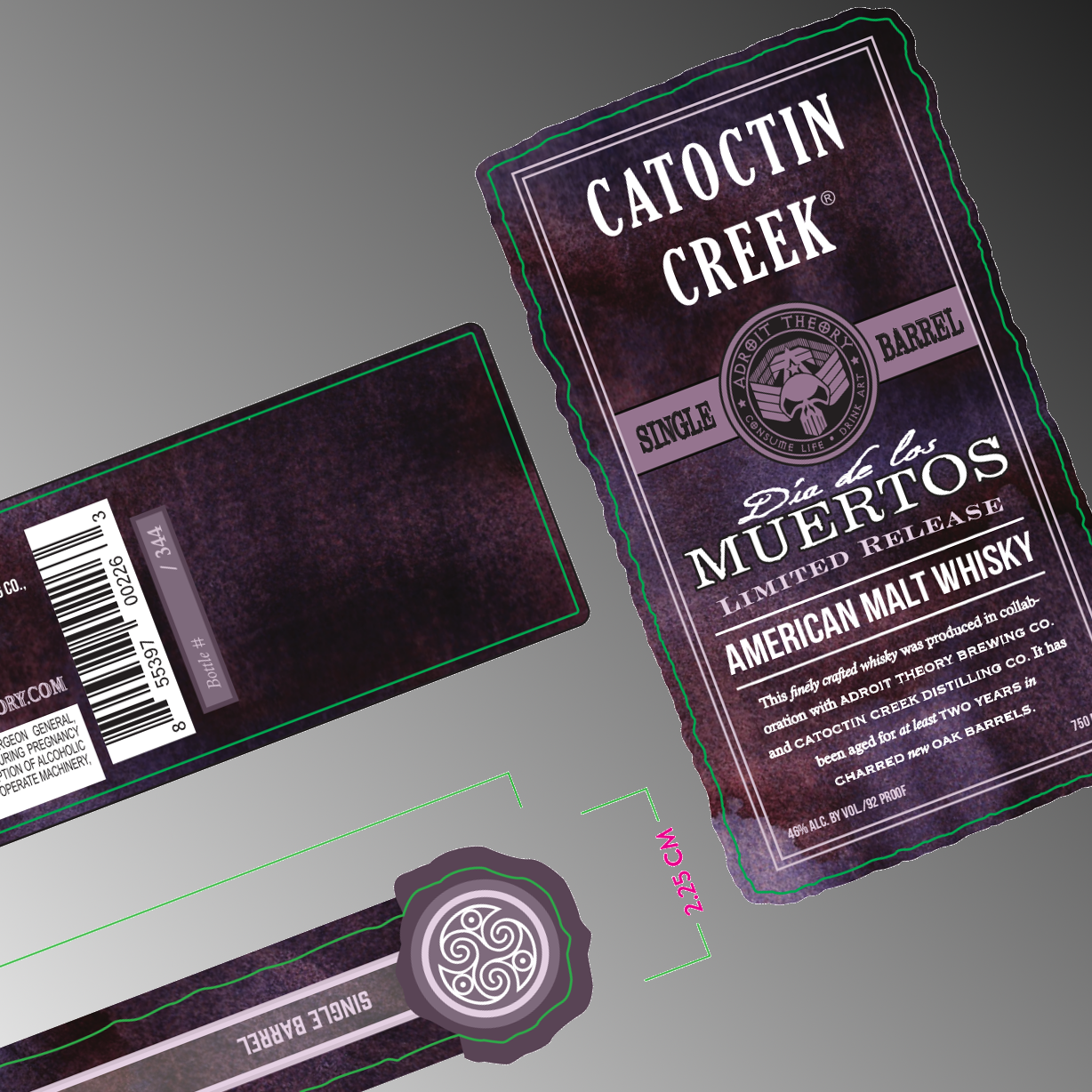 Our second beer collaboration, this one with Adroit Theory Brewing Company and called Día de los Muertos, will be available on November 12 (November 2 for VIP members).  Bottles come in individual cedar boxes, hand numbered and signed by the distiller and brewer on opening day.  $119.99 per bottle.
Warren Rojas does the full backstory at Washington City Paper:
Next to scrutinize the end result was Becky Harris, Scott's wife and Catoctin Creek's chief distiller. As she siphoned the resulting whiskey from its cask, she couldn't help gush about the collaboration. "I've been waiting for this one for two years," she says as she pulls a dram of the experimental beverage they dubbed "Día de los Muertos" American Malt Whisky.

"The name of the original beer was Día de los Muertos. So it made sense to name the whiskey the same," [Mark] Osborne [founder of Adroit Theory Brewing Company] says of the ominous moniker he came up with.

The whiskey smells of roasted malt and shines as brightly as copper. It's less forceful on the palate than traditional rye whiskey, but still has a rich mouthfeel, conveying definitive hoppiness balanced by caramel notes.
You can read the full story, here.
Salute America's Heroes with a special bottling workshop fundraiser
Join us for an exclusive whiskey event like no other. This event will celebrate and raise money to support our US veterans wounded in action.  Hear from American heroes, including our special guest speakers Sgt. Matthew Pennington and Sgt. Robert Bartlett.
Scott & Becky Harris will provide guests a private tour of the distillery and share on the history of whiskey. Then host a bottling workshop, giving guests the opportunity to bottle, cap, seal, and label a bottle of Roundstone Rye to take home with them.
The evening will conclude with a tasting of Catoctin Creek's finest whisky. Light hors d'oeuvres will be served and cocktails and bottled spirits will be available for purchase.
Enjoy Free Tastings at Virginia ABC Stores!
Virginia Brand Ambassador, John Shope, will be hosting tastings at your local ABC stores on Fridays at these selected locations. Try a sample of award winning Virginia spirits as well as take home some buttons, stickers, brochures and other cool giveaways.
Pouring Roundstone Rye 80 Proof, Roundstone Rye "Distiller's Reserve" 92 Proof and Watershed Gin on:
10/7 - Store 182 from 3pm-5pm at 1217-19 West Broad Street, Richmond 23220
10/7 - Store 102 from 6pm-8pm at 1901 West Main Street, Richmond 23220
10/21 - Store 50 from 3pm-5pm at 325 Four Leaf Lane Suite 3, Charlottesville 22903
10/21 - Store 202 from 6pm-8pm at 1902 Emmet Street, Charlottesville 22903
10/28 - Store 208 from 3pm-5pm at 44110 Ashburn Village Boulevard Unit 154, Ashburn 20147
10/28 - Store 73 from 6pm-8pm at 43150 Broadlands Center Plaza, Ashburn 20148
Enjoy Free Tastings in Maryland and DC too!
International Brand Ambassador, Chad Robinson, will be hosting tastings at selected locations:
10/1 - from 4pm-7pm at North Charles Wines and Spirits (Baltimore, MD)
10/7 - from 8pm-10pm - Whiskey Tasting at Fado Irish Pub (DC) - Free samplings of Roundstone Rye for their Friday Night Features.
10/12 - from 6pm-8pm - Whiskey Wednesday at Boss Shepherd's (DC)
10/13 - from 4:30pm-7:30pm at S & R Liquors (DC)
10/14 - from 6pm-8pm at Batch 13 (DC)
10/15 - from 12pm-3pm at Bay Ridge Wines and Spirits (Annapolis, MD)
Upcoming Events
Here is the full list of events planned at the distillery and in the area this month and through summer.  Many events are free, so be sure to join us for something fun:
For the full list of events, and to get your reservations to these, check our events page.
Cocktail of the Month – Mulled Cider with Rye
This cocktail comes to us from Sonja Bradfield, author of Ginger and Toasted Sesame.  Sonja has some amazing photographs and a delicious recipe for cider and rye, perfect for a warm winter beverage:
One of my favorite things to drink when the weather gets cold is something warm with a kick like a nice chai tea or a hot toddy. On Thanksgiving my family brewed an impromptu pot of mulled apple cider and for a little extra warmth we added a nip of whiskey. For this recipe I used some apple cider pressed in Virginia and some rye whiskey distilled in Virginia.

...

[This] rye is great in this mulled cider recipe. It'll warm you right down through your toes. This recipe makes a half gallon but you can easily double that for a bigger group gathering for the holidays. Just let the spices and fruit simmer long enough to get the cider nice and spicy. For an extra kick, you can add a few black peppercorns and maybe a bit more rye.
½ gallon of apple cider
2 satsuma oranges
1 honey crisp apple
3 cinnamon sticks
10 cloves
Catoctin Creek Roundstone Rye whisky
Thinly slice the oranges and apple horizontally.
Pour the cider in a large pot and add the slices of fruit, the cinnamon sticks and cloves.
Bring to a boil over high heat then lower the heat and let the mixture simmer for about 30 minutes until fragrant.
Fill up mugs about three quarters full and add about an ounce of rye whiskey to each mug.
Garnish with an apple or orange slice, half a cinnamon stick and cloves.
Recipe and photo by Sonja Bradfield, and used with permission.
See this cocktail and hundreds more on our cocktails page.
In Closing...
As always, there are lots of fun and information on our Instagram, Facebook and Twitter pages, where you can stay up to date with the daily activities at the distillery. We are open every Tuesday through Sunday for tastings and bottle purchases, so stop by and see us sometime!
Cheers!
Scott & Becky