CATOCTIN CREEK
Founded in 2009
Catoctin Creek® was founded by Becky and Scott Harris in 2009 as the first legal distillery in Loudoun County since before Prohibition. We are located in Purcellville, Virginia, in the heart of the Loudoun Valley. Virginia is the birthplace of American whiskey, and at Catoctin Creek, we faithfully dedicate ourselves to that tradition, producing Virginia's most awarded whisky: Roundstone Rye!
The name "Catoctin" is a regional name. Pronounced Ka-TOCK-tin, the name derives from the Indian tribal name "Kittocton" which, legend has it, meant "place of many deer". Catoctin describes a range of mountains and the eponymous creek which flows picturesquely past the distillery and into the Potomac River and Chesapeake Watershed.
At Catoctin Creek, we believe in high quality food and spirits. We source our grain and fruit from local sources, free of pesticides and chemical additives that would come through in the spirits we produce. The results are the finest, cleanest spirits possible, with the greatest attention to detail in every single bottle we produce.
---
Our Founders
Becky Harris, Chief Distiller
Becky graduated with honors from the University of Wisconsin, Madison. As a chemical engineer, she specialized in industrial processes and production systems. Becky brought this knowledge and applied it to something she loved–making the finest distilled spirits in Virginia.
All her products begin with the finest local and organic grains and fruit to create the cleanest spirit possible. At the heart of the distillery is a pair of pot stills, where Becky insists on cooking the distillate for a full nine hours, more than twice as long as most other distilleries, to create the unique and award-winning flavors in her distillate.
Becky was featured in Food and Wine as one of "6 Women in Whiskey to Watch," and served for three years as President of the American Craft Spirits Association.  In 2023, Becky received the Legacy Achievement Award from Bourbon Women in Lousiville, KY for her lifetime of work in the industry.
Scott Harris, General Manager
Scott graduated with honors and two degrees from Georgia Tech. He spent the last twenty years building a software career in telecommunication systems and government IT solutions and traded it all in for the chance to own and run his own distillery. As he likes to say, "Twenty years of government contracting taught me a great love of whisky!"
In, 2011, Scott was named Entrepreneur of the Year by the Loudoun Chamber of Commerce, and in both 2012 and 2020, Catoctin Creek Distillery was awarded Small Business of the Year.
Scott is an emeritus member of the board of directors for the Virginia Distillers Association and the Craft Distiller Advisory Board for DISCUS. He was also appointed to the Virginia Spirits Board by the governor of Virginia, overseeing the growth and marketing of Virginia spirits. Scott has been a tireless advocate for craft spirits both in the Commonwealth of Virginia, nationally and internationally.
In his free time, Scott likes to look at birds.
At Catoctin Creek
Catoctin Creek has received numerous international gold medals and has been featured in many national publications, including the New York Times, Washington Post, Wine Enthusiast, and Whisky Advocate. The Daily Beast, Forbes, and Men's Journal have highlighted the distillery as an example of great American craft distilleries making whisky from scratch.
Scott and Becky are happy to be doing something together that they love: Producing the finest spirits in Virginia, completely and truly by hand. At Catoctin Creek, Virginia Rye Whisky is our passion.
---
More about our logos
The Roundel
Our roundel, the circular medallion which sits atop our full logo, symbolizes the land that infuses every bottle we produce—the Commonwealth of Virginia. We love our home: her picturesque mountains, beaches, horse-farms, and beautiful Appalachian woods.  Virginia was one of America's original thirteen colonies, and Virginians were among the first in our nation to make rye whiskey.  Not least of which was George Washington, who distilled rye whiskey commercially at his Mt. Vernon farm. In fact, when people started distilling corn into Bourbon whiskey in what is today called Kentucky, yes, that land was still called "Virginia." (Kentucky didn't become a state until 1792.)
So, we proudly celebrate Virginia as the birthplace of American whiskey. As an homage to Virginia, we've adorned our logo with her state flower, the flowering dogwood. 

®
The Monogram
Monograms are a very old tradition, dating back even to Roman times.  The oldest known monograms were found on early 6th century BCE Roman coins, which were marked with the ruler's initials to authenticate and legitimize them.  Throughout the middle ages, a wax seal with a monogram was a mark of authenticity.  Our Catoctin Creek monogram is our mark of quality. Where ever you find it stamped, rest assured that we take pride in and vouch for the quality of the products contained therein.
If you look closely at the monogram, you can make out the fanciful script letters "C C D Co", for Catoctin Creek Distilling Company, with all the letters intertwined as to become a single meaningful unit.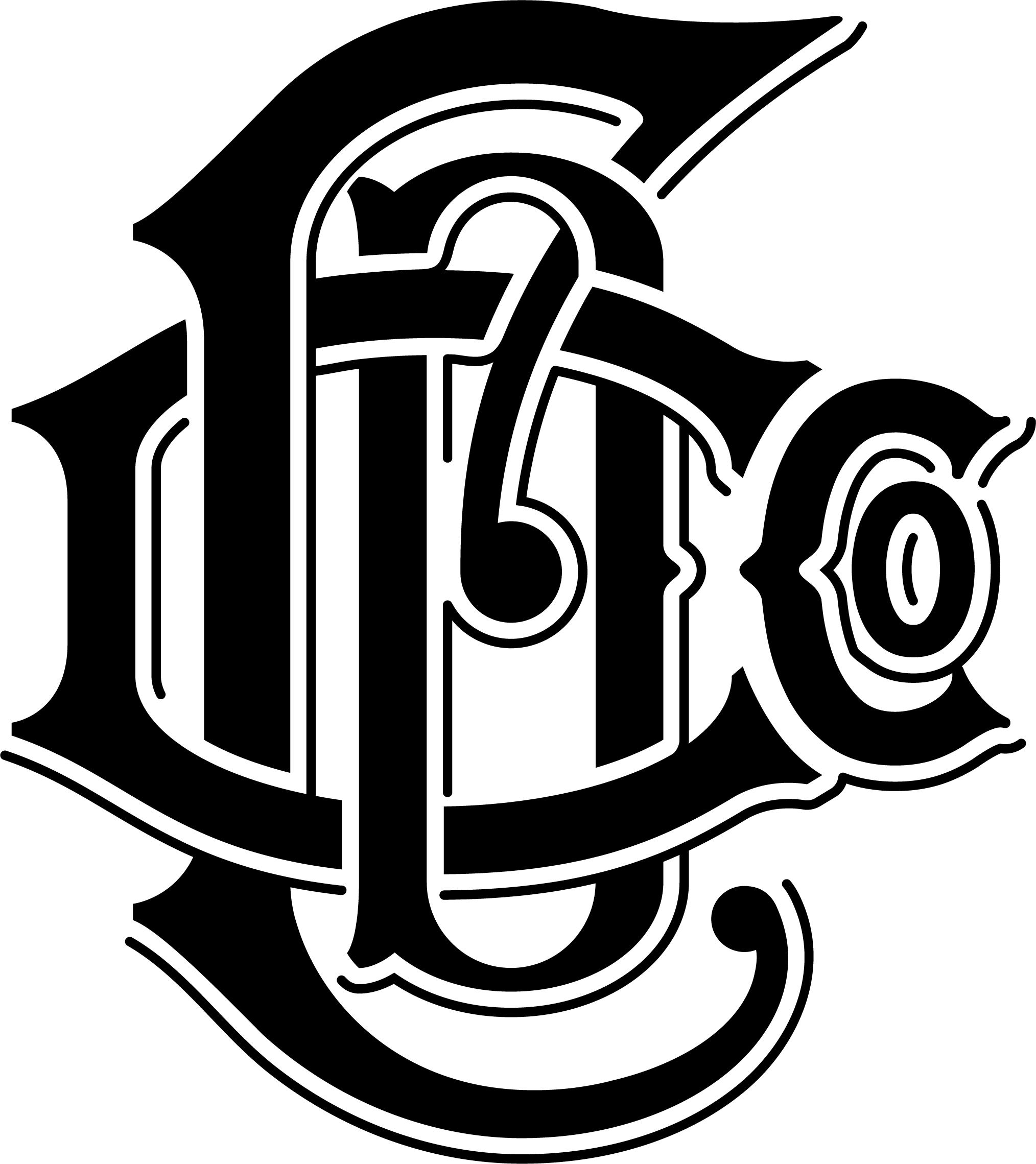 ®
---
More Information